A renowned name in web and mobile development, Nethues Technologies has been in business for more than a decade. Serving client's worldwide, we have always taken into consideration our customers' demands and requirements.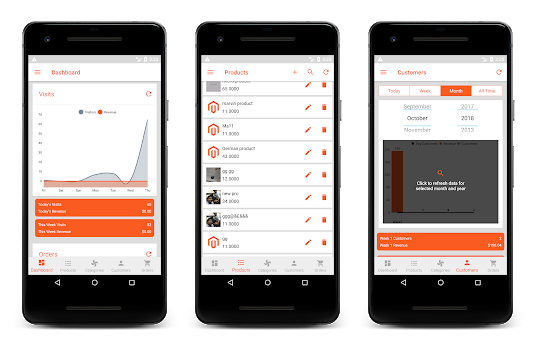 Based on the same fundamental, we have launched Magento Admin App Extension. Proving to be a helping hand for online store owners, the extension is already live on Magento Marketplace, waiting to be experienced.
But why is it called Magento Admin App Extension?
Well, the moment you buy our extension – you become eligible for our free mobile app, available for both Android and iOS. This is possible by putting an API and license code – generated once you install the extension. Easily downloadable from the Google Play store and  App Store, our app is all you need for your store management.
You might think why do I need this app or extension? Or what purpose would it solve?
In the era of eCommerce, it is very important for any online business to keep their data intact and on point. From sales to revenue to profits to customers info to orders, each and every thing demands severe attention- lacking in any of these might land you in a pothole. Thus, in order to save you from stepping into potholes and giving your online store the required jump, our app has some extensive features – all meant for effective store management and handling.
Let's discuss and decide:
Multi-Store Support
Irrespective of the number of stores you might own, our admin app holds the ability to manage all. Just with a tap on your phone, you can set up and manage all the stores: One app – multiple stores.
In-Built Camera
Capture any product's image using your device's camera, accessible from the app itself.
Weight And Dimensions
This feature allows you to add product including weight, height, length or width.
Product Price
Choose whether the desired product's price is inclusive of tax or exclusive of tax – for a clear pricing policy.
Crucial Specifications
Our app enables the owners to view all the relevant and crucial information by simply displaying it on the device itself, including:
A Detailed Analysis of Total Revenue Earned
Download/View Invoice of Completed Orders
Total Number of Visits on The Store
Total Number of Orders
An Analysis of Top 5 Selling Products
Complete Product View Along With Categories and Sub-Categories
Accept or Reject Reviews Posted By Users
Complete Information of Customers
Sales Statistics Including Sales, Profits and Losses
Billing/Shipping/Payment Details
The features speak for themselves!
Leaving no room for doubts, the features are a clear reflection of an easy, effective and efficient store management on the go. No matter whether you are travelling or relaxing at home, Magento Admin Mobile App is at rescue always – everywhere, every time.