On June 25, 2019, the Magento Community released the latest version of Magento – 2.3.2.
Though the announcement was made in May at Magento Imagine, where Adobe said that Magento 2.3.2 will have with 200+ product quality improvements, 75 security improvements and 2 new sales channel: Amazon and Google Shopping Ads.
Finally, it is out. On 25th June, Magento tweeted they have released a new update of Magento Open-Source and Magento Commerce.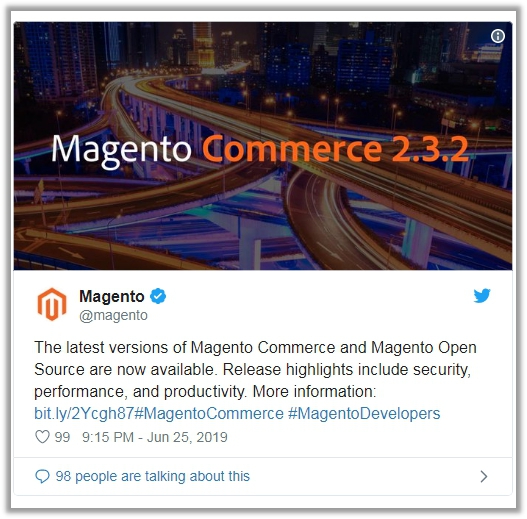 Magento 2.3.2 Version Highlights
Considering the expected keypoints declared during Magento Imagine, Magento 2.3.2 has better GraphQL (API), Performance and Security. Let's have a look.
Magento Security
The new version brings numerous improvements in advanced Adobe's security tools and Adobe Hacker. They are intended to help close cross-site scripting (XSS), remote code execution (RCE)and sensitive data disclosure vulnerabilities as well as other security issues.
To enhance store Security, Google reCAPTCHA module is now enabled for PayPal Payflow checkout.
Magento Performance
Significant improvement to storefront page response time.
Improved concurrent access to block cache storage.
Product page gallery load optimization.
Improved page rendering through deferred loading and parsing of storefront JavaScript.
Up to 90% enhancement in category browsing for sellers with large catalogs.
 Magento Productivity
Perform multiple tasks as asynchronous background processesenabling admins to go on working while actions are being operated on the background.
Magento Quality
More than 130 product quality improvements in various platform critical areas.
Upgraded user interface for assigning sources to products.
New endpoint for Bulk Partial Stock Transfer.
Infrastructure Improvements
Braintree payment method is now supported for checkout with multiple addresses.
The CGI URL gateway in UPS module has been updated from HTTP to HTTPS.
Google chart API updated to the Image-Charts.
Magento Shipping
Fixed issue with the event stream cron job.
Fixed issue with retrieving shipping labels from AWS environments.
That's not all.
The latest version has a lot more that certainly aims to enhance the merchant as well as user experience. We suppose that taking advantage of these enhancements by upgrading your Magento store can be beneficial for business while increasing their sales and conversion rates.
Have a look at the complete list of the fixed issues of Magento Open Source 2.3.2 and Magento Commerce 2.3.2.