Last weekend I was hanging out with one of my friends, who is an avid online shopper.
I asked him why you never shop from any other eCommerce site except top grossers, i.e. Amazon, eBay or Flipkart.
He replied, it's not like he never tried. He even visited one. After a minute or two, their website loaded somehow and prompted him to download its native app for a much smoother experience.
Although the app ate a big chunk of his mobile storage and was no better than the website, its sluggish interface, unoptimized network connectivity, poorly arranged product catalogue was even worst.
These downsides convinced him never to revisit a non-famous eCommerce site.
Now, this may sound harsh, but 57% of Magento merchants, including you, are losing potential customers to these eCommerce giants.
The only difference is of speed & courage to adopt new trends.
After Google introduced "Progressive Web Application" in 2015, almost every global brand like Twitter, Ali Express and George.com leveraged it.
Flipkart even registered a 50% new customer acquisition rate. Moreover, the conversion rates of BMW got tripled by 40%, with a 160% surge in their visitors' sessions.
There is endless data available to prove the goodness of PWA development. Still, some merchants think that a Magento PWA site can't behave and feel like a native app.
The truth is, a PWA is so much better than a native app. First, it doesn't need an app store's approval, and second, it has relatively more benefits.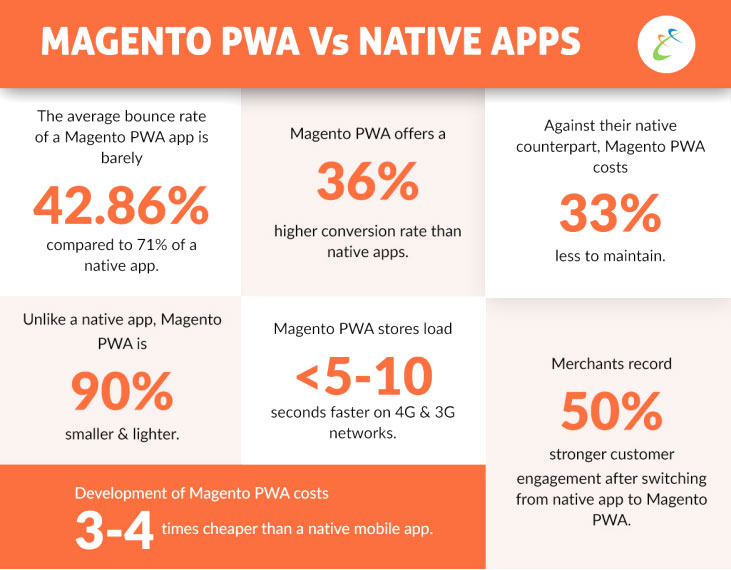 Now, there's a saying prevalent among online commerce today – "If you are not delivering a progressive web experience to your eCommerce visitors, you are deliberately choosing to stay behind in the competition".
Therefore, Buckle Up!!! And update yourself with the benefits of PWA for Magento eCommerce by jumping to the section of your choice.
Table of Contents:-
A quick recap to PWA & how it works
Though we had shed some light on the insights into progressive web apps and their features, a quick recap never hurts.
"A PWA is just like a smartphone application in the shape of a webpage/website. It treats your visitors with a faster, reliable, & engaging version of your eCommerce store."
Progressive Web Apps let your users, pin-up, your website on their homepage in the form of an icon. It doesn't use any space from their device and instantly displays your entire website/store with a single tap on it.
Additionally, it also persuades your visitors to install your official smartphone application without ruining their shopping experience.
With a PWA, you wouldn't need to worry about the app store's approval in any scenario.
You'll have all the liberty in the world to release updates, manage authority, fix bugs, and so much more.
How Magento helps in achieving a PWA experience?
Magento Extensions & Plugins
Adobe has flushed the market with a variety of extensions & plugins. These extensions claim to give your store some edges of a progressive web application.
However, it'd be childish to think installing a few extensions only can turn your Magento store into a PWA.
It demands the abilities of a skilled & certified Magento developer. These developers are well acquainted with modern toolkits. And, turning websites into PWA is 'business as usual' for them.
They define the core front-end code that extensions can't alter and seamlessly get your job done.
Magento PWA Studio
Released in January 2019, Adobe actively promotes its Magento PWA studio project.
This PWA studio is a pack of expansive JavaScript-based developer tools that help you build a PWA storefront on Adobe Commerce.
It replaces your existing front end with a Magento PWA storefront and communicates with your modified Magento back-end through GraphicQL-based Magento APIs.
Though this package is not ready to use solution, a renowned PWA development company can make its good use to increase your ecommerce's user engagement, conversion rates and revenue streams.
Top 4 Magento PWA Benefits for eCommerce Businesses

Improve sales by raising organic traffic
According to Search Engine Land, 60% of search queries come from mobile devices.
As a result, Google ranks mobile-first websites at the top by prioritizing them as relevant results.
To help your business race top charts, Magento PWA makes your website/store mobile-friendly.
It reduces its page loading speed, consumes less memory & data, and amplifies its performance, to rank among the top.
Ultimately resulting in higher organic traffic and holistically improved sales.
Increase customer engagement by boosting brand awareness
Magento PWA empowers your ordinary website with an Add to home screen feature.
It persuades your visitors to add your PWA site to their home screen. So when they do this after seeing that your site has everything needful, they gradually become your loyal customers.
This feature is way too beneficial for SMEs. It brings them a step closer to their audience and increases their customer engagement level through the roof.
Activate dormant customers through remarketing
A Magento PWA also helps you understand customers' behaviour. It provides you relevant data the moment they pin your site at their home screen.
This data includes accurate information, such as which pages your customers have visited. The number of times they have seen that page. Their duration on it and products they interacted on it.
Scraping this behavioral data, your sales & marketing team can refine your leads with personalized deals, services, and pop-ups. And so improve your rate of user acquisition & return on investment.
Reduce bounce rate by enhancing customer experience
Adobe confirms that a Magento PWA site has a 30% lower bounce rate than a native mobile application. Indeed because of these user-friendly benefits:-
Fluency: A Magento PWA site delivers enjoyable haptic feedback. It quickly responds to customer interactions and flawlessly performs without any complicated scrolling required.
Appealing: Exploring a Magento PWA store almost feels like navigating through a native app with rich UI/UX. Irrespective of what device you are using.
Agility: With Adobe's intelligent optimizations, a Magento PWA site never annoys your visitors with poor performance, even during unstable internet connectivity.
How PWA boomed your everyday known brands?
Pinterest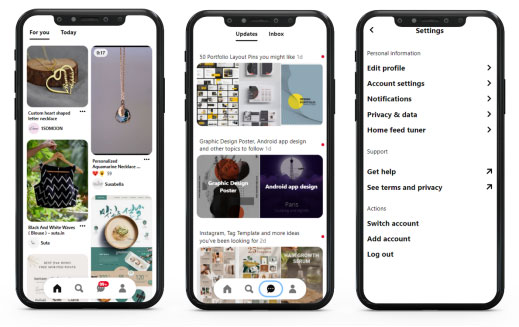 A social network site that allows users to share images & videos (which they call pins).
PWA Launched Year: 2020
Problems:-
Slow web experience.
Poor conversion (Sign-up) rate.
Results after launching PWA (Pinterest Lite):-
40% increase in user retention rate.
60% increase in core engagement level.
50% increase in advertisement CTR.
Flipkart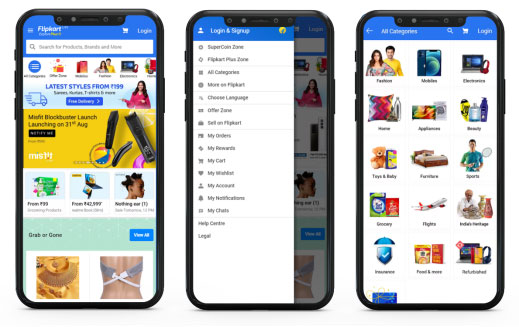 India's largest eCommerce store with over 200 million registered users.
PWA Launched Year: 2016
Problems:-
Lazy mobile experience on 2G & 3G Networks.
High cart abandonment rate.
Customer return rate was decreasing.
Results after launching PWA:-
79.3% faster performance even on poor internet connectivity.
3x lower data usage.
70% increase in conversion rate.
Starbucks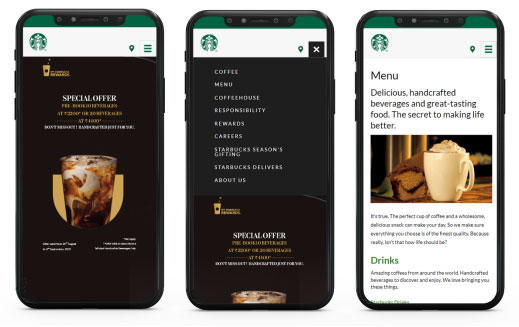 World's largest coffee house company with over 32,938 retail stores currently on the run.
PWA Launched Year: 2015
Problems:-
Unresponsive app in contrast to competitors
App goes inactive without internet connectivity.
Untapped user engagement.
Massive reduction in online orders.
Results after launching PWA:-
2x increase in daily active users.
99.84% data storage saving. The previous app needed 148 MB, while Starbucks PWA needs just 233 KB.
55% improvement in online orders.
5x increase in customer engagement due to push notifications.
Trivago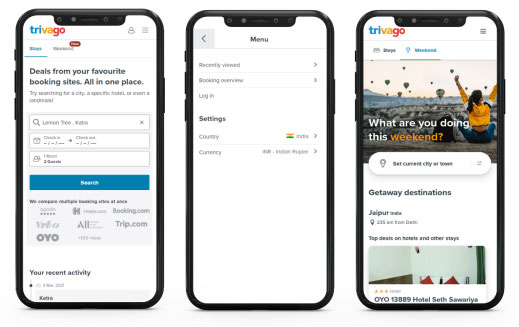 A global accommodation search engine available in 33 different languages that empowers over 120 million fresh travellers every month.
PWA Launched Year: 2017
Problems:-
Wanted a swift mobile experience for the rising user base.
App speed wasn't satisfactory on 3G internet connectivity.
Underutilized customer engagement.
Results after launching PWA:-
150% increase in user acquisition (people add its PWA to home screen).
97% increase in customer engagement through personalized hotel offers.
64% rise in browser continuity.
Ali Express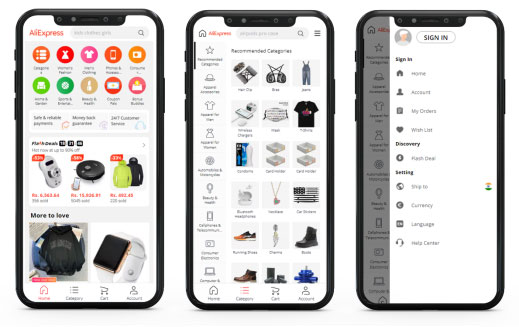 A significant part of the Alibaba group with over 600 million downloads & operations spread across 230 different countries & nations.
PWA Launched Year: 2016
Problems:-
Terrible website loading speed.
Needed their customers to interact with products without any downloads & installations.
Results after launching PWA:-
Triple scroll depth.
20% increase in ad CTR revenue.
104% conversion rate for fresh users across all browsers.
82% boost in iOS conversion rate.
2x more pages visited per session.
Is it too late to implement PWA for my eCommerce business?
Well, the simple answer is – NO!
PWA is the future of successful eCommerce. Even though many big brands are proven examples of its magic, we don't know why SMEs ignore this opportunity as if it is nothing worthwhile.
So, if you want to be a trendsetter in your industry, and are planning to turn your ordinary eCommerce website/store into a profit spitting PWA, then this is the right time.
Post Covid-19 pandemic, eCommerce is flourishing. And, if you initiate standing apart from your rivals by throwing in a PWA site, then there's no doubt your business will be unbeatable.
The easiest way to transform your eCommerce into a future-ready PWA
Working for 20 whopping years, we believe each eCommerce business, and thus, each Magento store deserves a personalized touch.
As a result, we have successfully transformed countless Magento stores into Magento PWAs tailored to their business models.
Our Adobe tested team of Magento certified developers follow the modern routes and guarantee the highest PWA optimization score for your business.