Mobile commerce or mCommerce has grown exponentially in the last decade while reflection no signs of backing off or stopping. People have started enjoying shopping from the comfort of their homes and smartphones on a click.
Though it all started with desktop commerce but with technological advancement, a jump from desktops to mobiles can be clearly seen. Thus, an eCommerce store without a mobile app serves no purpose in today's time. In fact, if you own an online store that caters to your target audience's needs, you should immediately move to a mobile app and turn your desktop based eCommerce into mCommerce.
Before moving further, let's make this more clear with the help of figures and statistics.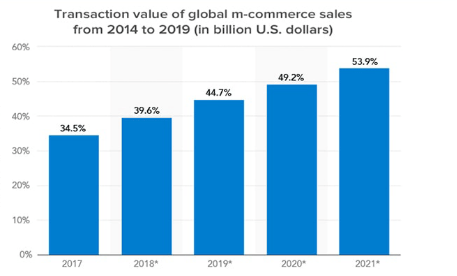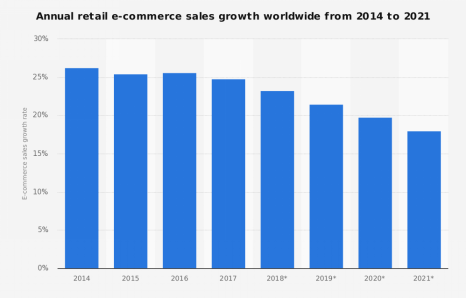 Both the graphs are a clear reflection of how mobile commerce is swiftly replacing desktop commerce and – to quote Mel Gibson's famous words – in the end, there can only be one.
We understand how dramatic that sounds, so let's dive into reasons to explain what we mean – by stating the benefits mCommerce has in store and how moving to mCommerce can be of great help for your eCommerce business.
Benefits of mCommerce
mCommerce came into existence with the advent of mobile websites and mobile apps. Applied to all forms of business including B2B, B2C and C2C, the main aim of mCommerce is to improve the effectiveness of trading and improve business by achieving faster and efficient purchase of goods.
Faster Purchases
Many sites might have mobile versions but apps load data and search results 1.5 times faster on mobile devices. They eliminate the need to pull data from a server so that the customers can browse and purchase products fast.
Moreover, these mobile eCommerce apps offer the same functionality as desktop apps so your customers can purchase items directly within an app and make way faster shopping experience.
Enhanced Customer Experience
Because it matters.
People are well familiar with how smartphones and tablets work, so they know how to navigate their desired products within few clicks. In addition to purchases, customers can share their excitement of bought goods with their family/friends, or ask for advice from the community of shopaholics. This helps in utmost customer satisfaction and smooth customer experience which certainly equals better conversion rates and revenue.
Push Notifications
Bridging the gap between a business and its potential customers, notifications prove to be the ultimate delivery systems. They prompt in delivering offers, events, promotions and reach the audience instantly since mobile devices are portable and are often carried along. They keep reminding the customer about you and bring them back as soon as a push notification hits them.
"According to a survey, almost 76% of mobile shopping consumers between the age group of 18 to 34 have enabled push notifications. mCommerce apps with push notifications can improve conversion rate of a business by targeting the potential customers precisely."
Tailored Content
With a mobile app, you can deliver personalized content to your customers that's purely based on individual preferences and shopping patterns. They would love it (if you don't overdo it, surely). User location, interests, social media profiles, items viewed, etc. all can be utilized to bring people what they need.
Furthermore, a mobile app lets you set such preferences based on gathered customer data, tracks users' behavior and offers recommended items in real-time. In most cases, it translates into higher customer loyalty and outreach. The more specific and personal, the better.
Conclusion
Based on the perks that mCommerce has in store, it's quite evident that it is ought to take the lead and already has to a great extent. One needs to have extraordinary skills in order to win a fight and in this case, mobile commerce seems to possess some. Thus, eCommerce companies dealing with desktop websites need to make a quick switch to mobile apps in order to stay in the long run.