Wouldn't it be right to say that Magento 2 has been grist for the gossip mill for quite a long time now?
Well, after witnessing the number of eCommerce merchants taking a move towards it, it would be absolutely right. And why not? The platform offers almost everything that is needed for a foolproof online business.
Now, in order to maintain the same customer base, brand image and of course sales, it is crucial to stay up-to-date and secure. This may sound troublesome but here the good news. You are not alone, the Magento community is with you. With regular updates and version upgrades, the community supports its merchants throughout their journey so that nothing comes in their way. Be it a minor security fix or a major feature introduction, everything is taken into consideration for supreme results. Well, this is the reason you should upgrade from Magento 2.2 to 2.3.
That's not the only reason, perhaps this is one of the major reasons. Before moving on, take a look at: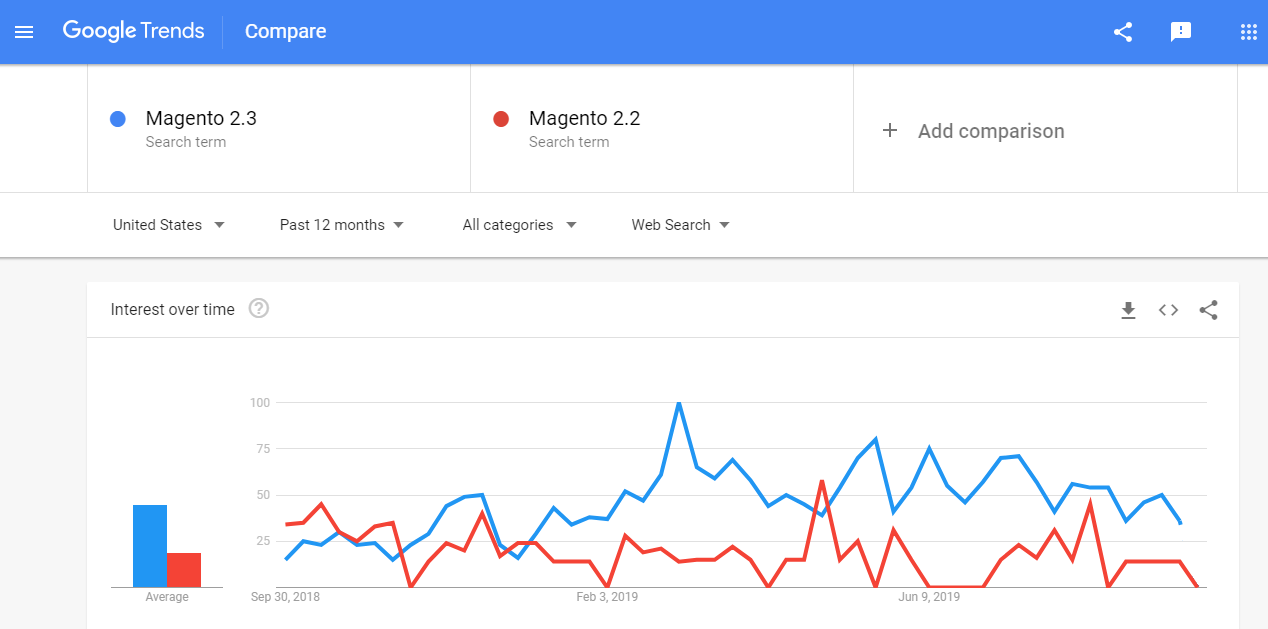 As you can see, the concern of Magento 2.3 has already exceeded its predecessor. That's mostly because the features are too good to ignore. In this post, we will talk about why you need to upgrade to Magento 2.3.
Multi Source Inventory (MSI)
Thanks to MSI, Magento is now the perfect place for managing stocks from all channels. MSI allows the merchants to manage all inventory sources without any third-party extensions or platforms. This feature enables stock management in multiple locations so that merchants can appropriately reflect their physical warehouses in Magento 2.3 system for fulfillment.
Using MSI will help you throw away any Inventory extensions in the market. Sure, you will be prompted into buying some inventory management extensions, but even if you don't, you will still be able to manage your stock.
Enhanced Security
Security is one of the topmost concerns of an online store owner. Luckily, Magento understands this well.
With support for PHP 7.2, it not only has new development features but enhanced performance and security. But what about PHP 7.2? Well, Argon2, the winning powerful hashing algorithm will be brought by PHP 7.2 as a secure alternative to the Bcrypt algorithm.
Coming back, Magento 2.3 also features Google reCAPTCHA and Two Factor Authentication to add more layers of protection against malicious attempts to access your Magento admin panel.
PWA Features
Progressive Web App (or PWA) has been a hot potato for long. It is thought to have bought business a boost in sales, customers, leads and conversions.
The good news is: Magento 2.3 is the first version to offer PWA Studio. introduced for easy implementation on the website frontend, it will facilitate merchants and developers to generate dependable, fast and engaging mobile experiences.
Find out more on what is a PWA?
GraphQL API 
A substitute for REST (REpresentational State Transfer) and SOAP (Simple Object Access Protocol) API, the GraphQL Application Programming Interphase is introduced for personalized frontend development.
Page Builder
It is simply a drag-and-drop visual content editing tool. Allowing merchants to personalize their storefront appearance without having to write code, the Page Builder function proves to be a major update since because the current page builder is a nightmare for non-coders. The simple drag-and-drop feature will definitely reduce the time to build a new page.
So what do you think? Do you need Magento 2.3? If yes, we can help you with everything from download, to installation to upgrade.
Also, if you are still operating on Magento 1, you should make your move towards Magento 2 since the support for Magento 1 will end in June 2020.