Do you know how the most successful eCommerce businesses make win-win decisions?
Well, they swim in data. They constantly track actionable metrics to know the current state of their business. Since they are aware of their store's performance in real time, they know which levers should be pushed and pulled for ultimate growth. However, they don't optimize every single metric available. And this isn't possible as well!
While it is great to have access to every single metric, getting overwhelmed by a large number of metrics at your disposal isn't unusual.
So how do you decide which metric should you be using or what should you be tracking? Don't panic. We will help you identify the metrics you should be tracking on a regular basis and the ones that are good to know but not so vital for your business success.
Let us start with the not-so-vital or the vanity metrics before we talk about the interesting stuff.
Vanity metrics are:
"Measurements and calculations that are designed to make you feel good but don't help with decision-making. In other words, they exist to impress, not to offer any actionable insights."
Some of these include:
Social media following
Pages per session
Average session duration
Unique users
Pretty clear!
Now that you know some of the metrics you should NOT spend your time on, let's move on to the crucial ones!
MOST IMPORTANT ECOMMERCE METRICS
Conversion Rate
This is probably the most important among all eCommerce metrics. It simply means how many visitors convert into customers.
However, it is also the most difficult to achieve. A large number of eCommerce merchants struggle with huge traffic but no sales.
To give you heads up, the average conversion rate for the eCommerce industry tends to be around 2.5%. Reasons vary – design, content, high prices, insecure payments etc.
Now, since conversion is basically how successfully you turn visitors into customers, it is significant to calculate it at regular intervals.
Calculate your website's conversion rate by using the following formula:

By tracking your conversion rate, you can identify how many visitors make actually make a purchase. Further, you can start working on areas that might be stopping visitors from buying. This is called conversion rate optimization (CRO) wherein you can generate hypotheses about why
customers don't convert and how to make them purchase from your website.
Customer Acquisition Cost(CAC)
Are you aware of the cost you spend on acquiring a new customer?
What if we tell you that every new customer you acquire costs you more money than his/her spending on your website?
Horrifying thought? Yes!
To prevent this, you must measure your CAC. It involves everything from marketing and sales expenses to salaries and overhead associated with attracting and converting a visitor into a customer.
Calculate your website's customer acquisition cost by using the following formula:
Total Sales and Marketing Expenses/
Number of New Customers
It's important to calculate your CAC so that you know how many resources you should be spending on a customer so as to be profitable. Make sure this cost is lower than the customer lifetime value (discussed below).
Customer Lifetime Value (CLV)
The third actionable metric every eCommerce business must track is the lifetime value of every customer. This is the overall revenue you forecast a customer to bring you during their lifetime or time as your customer. Knowing your CLV tells you how much you can spend to acquire a customer and how far you should go to retain them.
Calculate your website's customer lifetime value by using the following formula:
(Average Purchase Value – Average Purchase Frequency)
x
Average Customer Lifespan
This metric also encourages businesses to shift from focusing on short-term customer relationships to long-term ones. Further, it has a lot to do with customer retention and experience.
Cart Abandonment Rate
According to SaleCycle, the average cart abandonment rate in 2018 was around 76 percent. This metric is the percentage of shoppers who add items to their shopping cart but leave your store without making a purchase.
In eCommerce, this rate varies by niche: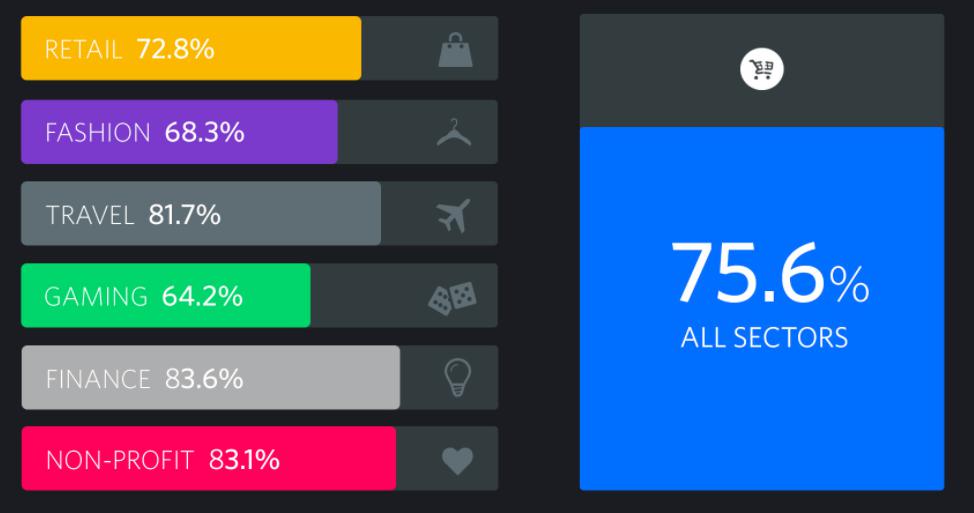 Calculate your website's cart abandonment rate by using the following formula:

It is critical to know this rate so that you can start working on the weak areas. Though the reasons behind a high rate can be endless, here are a few tips that could help in reducing it:
Simplify your checkout process
Use remarketing to engage your customers
Use emails to remind customers about items in the cart
Average Order Value
As the name suggests, AOV tracks the average revenue your business gets from a purchase. Knowing it is critical to understanding the lifetime value of your customer and help you align better strategies for growth.
Calculate your website's average order value by using the following formula:
Total Revenue/
Number of Orders Over a Period of Time
Remember to keep a regular track and strive for increasing it. In case you are unable to drive it up, here are a few tips:
Offer product bundles so customers can get everything in one click
Set a free shipping criteria
Include additional features or premium product
Recommend products that can complement purchases
CONCLUSION
Any store, whether large or small, should certainly pay attention to these metrics. This not only helps in knowing the real status of your business but encourages you to improvise.
Further, as your store grows to process more orders, and therefore has more data if can be difficult to handle everything all at once. So, start small and end big.