Though getting online or selling online might sound a cakewalk, the matter of the fact is: selecting the right platform for your eCommerce business needs a huge amount of brainstorming. After all, one bad decision can cost your business and its reputation.
Cutting through the noises, with more than 70 million downloads, WooCommerce powers over 28% of all online stores.
Well, isn't this statement justifiable in itself? But it is too early to jump onto any conclusions.
Been there for less than a decade, WooCommerce holds a size-able slice of the ever-growing eCommerce pie. You might consider it as one of the free WordPress plugins but you would be extremely hard-pressed to find a similar plugin that holds the same level of potential.
Before moving onto what makes the platform unique among the rest, let's have a quick look at the distribution of websites using eCommerce technologies by Builtwith.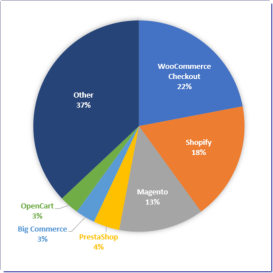 BOOM! The results speak loud and certainly demand some supporting statements.  
Without wasting any more time, let's discover some of the key features or benefits of using WooCommerce for your eCommerce business.
Pricing
Easily Customizable
Secure Environment
Analytics Power
SEO Friendly
Pricing
When a retailer chooses a platform, price is likely to be a major factor. eCommerce applications range from free to thousands of dollars per year, but the difference in price isn't necessarily related to the capability of the application.
WooCommerce is competitive with leading enterprise eCommerce applications, but because it's free, any business can easily take advantage of its capabilities without having to commit to expensive support contracts or proprietary software licenses.
Easily Customizable
Just like WordPress, WooCommerce includes a rich set of features that can be extended with the addition of plugins. Retailers have access to thousands of WordPress plugins and themes as well as hundreds of eCommerce-specific extensions built just for WooCommerce. These plugins expand store's functionality in regards to shipping, payments, orders and a lot more.
Currently, users can choose among 39 different WooCommerce enabled themes – many of which are free, via the WooThemes Store. Once a theme has been selected, you can work on changing pre-set CSS styles and colours, tweak the code and experiment with the special features each theme brings.
Secure Environment
The WooCommerce development team works closely with security experts to provide their customers with the safest online experience. Security updates arrive quite fast here, leaving minimal room for bugs and other issues. Further a single click is enough to update and implement the changes, which, in turn, creates a secure shopping environment for the users.
Also, being open-source, WooCommerce benefits from the worldwide developer community in terms of new features, faster improvements and a great community.
Analytics Power
Any eCommerce website owner cannot do without analysis. It's rather one of the mandatory tasks to make a business successful. Unfortunately, many eCommerce startups may not know how to use the analytics system or its importance. Thankfully, WooCommerce has such merchants covered.
The built-in analytics system makes necessary statistics crystal clear. Figures like total sales, sales by date, order totals, individual customer statistics – to name a few are well-presented via graphs, without the user ever having to leave their admin panel. Isn't this easy and amazing?
SEO Friendly
WooCommerce, being based on the popular CMS WordPress, provides an intuitive interface where the product details and any information regarding SEO can be easily entered and stored. On top of it, it offers extensive third-party SEO plugins which help in optimizing every post and page on your website.
So there you have it, five propelling reasons that justify the title, the numbers and the growing popularity of WooCommerce.