The revenue of the IT outsourcing market worldwide is expected to cross 157 billion U.S. dollars by the end of 2023. The IT outsourcing market is likely to double-fold in a few years. Companies worldwide are leveraging outsourcing services for diverse reasons. While many outsource to save cost, there's more to outsourcing than meets the eye.  As much as 47% of businesses outsource to ensure consistent focus on core business requirements. The immense benefits of outsourcing have made them a prevalent choice across diverse business industries. This article investigates what makes outsourcing a popular choice among diverse business industries. Before we begin, look at some of the top outsourcing statistics.
Key Outsourcing Stats in 2023
54% of all companies use some third-party providers to connect with the clients

The U.S. alone outsources nearly 300K+ jobs & business functions every year

93% of organizations are willing to use Cloud services for better outsourcing

49% of companies say they outsource to save money

India, China, Malaysia, and Indonesia, are the leading business process outsourcing nations across the globe.
Also, Read here – The Right Approach To Hire Developers For Startups
What are the Benefits of Outsourcing?
Based on the specific business industry needs and demands, there are varying reasons behind outsourcing. However, most business industries outsource to save money and improve focus on core business objectives.
It also helps organizations access global talent, boosts productivity, enhances efficiency, and more. Following are the top 7 benefits of outsourcing.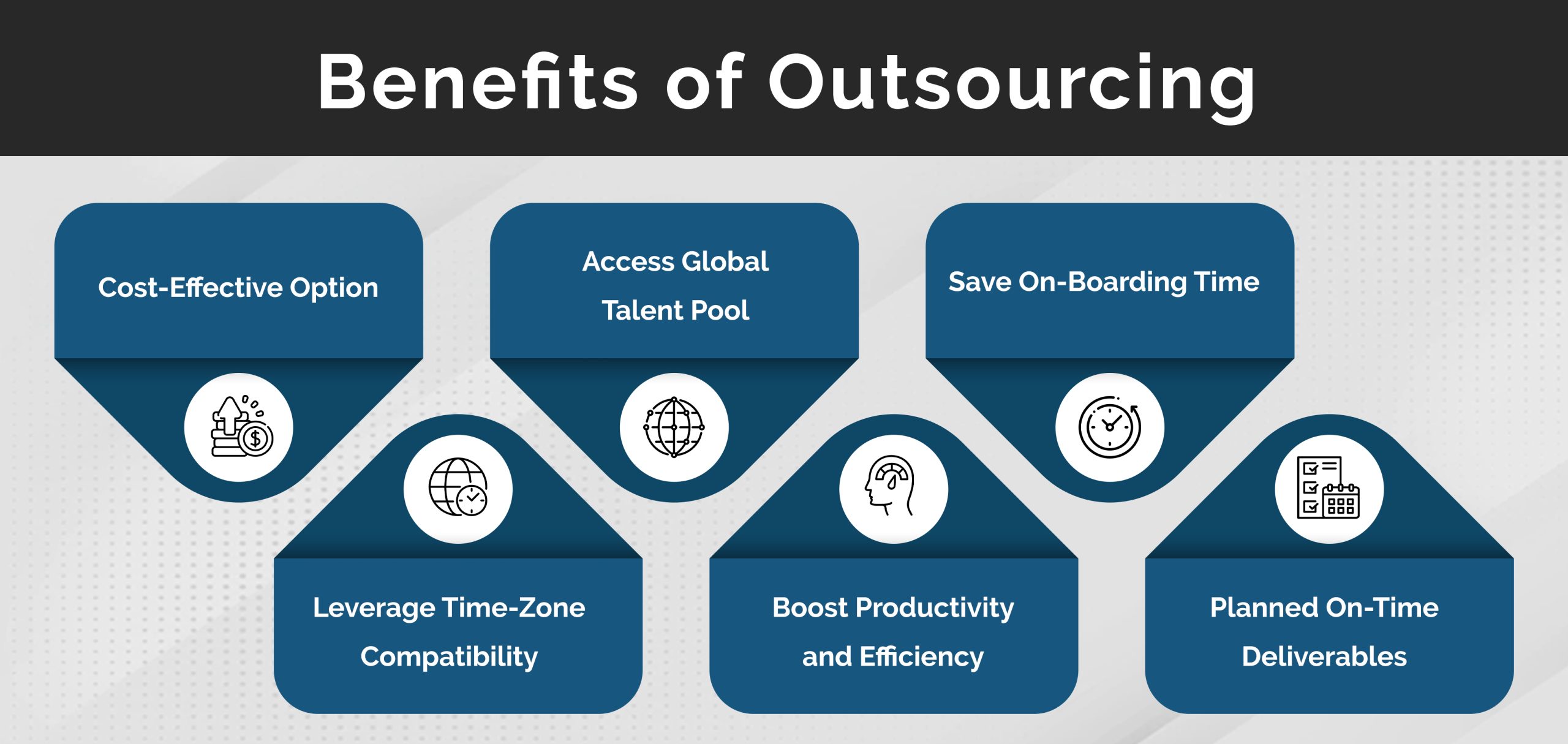 1. Cost-Effective Option
For most organizations, saving costs and getting things done on an affordable budget is the driving factor behind outsourcing. As per a survey report by Deloitte, 62% of companies leveraging outsourcing services saved between 10% to 25% of the project cost. With the right outsourcing strategy, businesses can easily save significant project costs and labor costs which makes it a lucrative option for global organizations. 
Cost-savings are possible with outsourcing as you have access to cheap labor. You also save on infrastructure costs as you do not have to change the existing infrastructure. Companies can find talented individuals to work on projects at lower rates when outsourcing.
2. Access Global Talent Pool
One of the main benefits of outsourcing is that it lets you access a global talent pool. When you own a business, you need people of varying skill sets. Finding the right talent nearby to your location is only sometimes possible. Outsourcing lets you connect and find suitable talent for your business operations from the comfort of anywhere. 
You can look for suitable candidates in a specific geolocation. Instead, you can go global and look for the best candidates for the job at a lower hiring cost. For example, you can hire a developer in India starting at just $19 per hour. In contrast, the minimum rates for hiring developers across the U.S., U.K. starts from $50 per hour. This is more than double what an outsourcing nation has to offer.
3. Save On-Boarding Time for Deploying Urgent Business Functions
It's a time-taking process to hire the right candidate that joins your organization immediately, not with outsourcing. Choosing to outsource over hiring in-house candidates reverses this situation. Whether you select outsourcing companies or freelance sites- There's always people available to work as outsourced employees. 
However, take your time and hire someone who is a good fit for the development project. Instead, take the opportunity to inspect various aspects for hiring the best partners for the project. For example, several companies offer the same if you are looking for software development partners. You must look at either earlier projects or clients' feedback before you opt for one.
4. Leverage Time-Zone Compatibility for Advance Business Operations
Earlier time-zone compatibility was one of the main issues of outsourcing. However, outsourcing companies have rapidly adopted time-zone compatibility over the last decade. In 2023, several organizations in top-outsourcing countries will work as per the client's time-zone compatibility. This helps you to tackle the issues of collaboration efficiently. 
At Nethues outsourcing web app development company, we offer 100% time-zone compatibility. Our skilled developers work as per clients' desired shifts. We leverage standard project management tools to provide a smooth collaboration with clients. 
5. Boost Business Productivity and Efficiency
Trying something you are new at involves significant risks of failure. Having dedicated experts taking care of what they are skilled at helps you mitigate the risks efficiently. Outsourcing lets you leverage the expertise of experienced professionals and reduces anxiety effectively. 
This frees up resources and time and time for crucial business activities. Instead of trying to gain expertise in something new, businesses can focus on core objectives and learn new skills over time rather than in a hurry. 
6. Experience Planned On-Time Deliverables
One of the main benefits of outsourcing is a planned strategy with on-time deliverables. Veterans with several years of experience in the business industry offer genuine insights about the deliverables. This helps to follow a systematic approach to how to lead the project.
You can easily plan everything from launch to marketing the business project with accuracy. The project does not suffer frustrating delays due to a lack of experience or business insights. 
Disadvantages of Outsourcing 
While outsourcing is a preferred option for companies trying to save costs, it can be a challenging road to walk on. There have been instances where companies end up at a complete loss. You must choose a trusted organization that delivers high-quality services within the promised time frame. Following are some of the disadvantages of outsourcing:
A communication gap between the client and the service provider can lead to significant differences in the required solutions. You may end up getting something that fails to deliver planned results.

There are better options for developing something unique and one-of-a-kind. For example, if you have an idea for a million-dollar application, discussing it with complete strangers is a risk. In such a case, inspecting whether the chosen services partner offers NDA and how they plan to protect your intellectual data is essential.
Closing Thoughts
Outsourcing is a robust approach to getting things done where you lack resources and expertise. It also provides you with a faster path to getting desired results. 
At Nethues Technologies, we have been offering outsourcing services for over 20 years. Our expert consultants analyze and understand your business project to provide accurate estimates and pragmatic deadlines.  
60 Days of Free Support

100% In-House Team, No-Freelancers

First-Time-Right Solutions

5+ Years Average Experience of Developers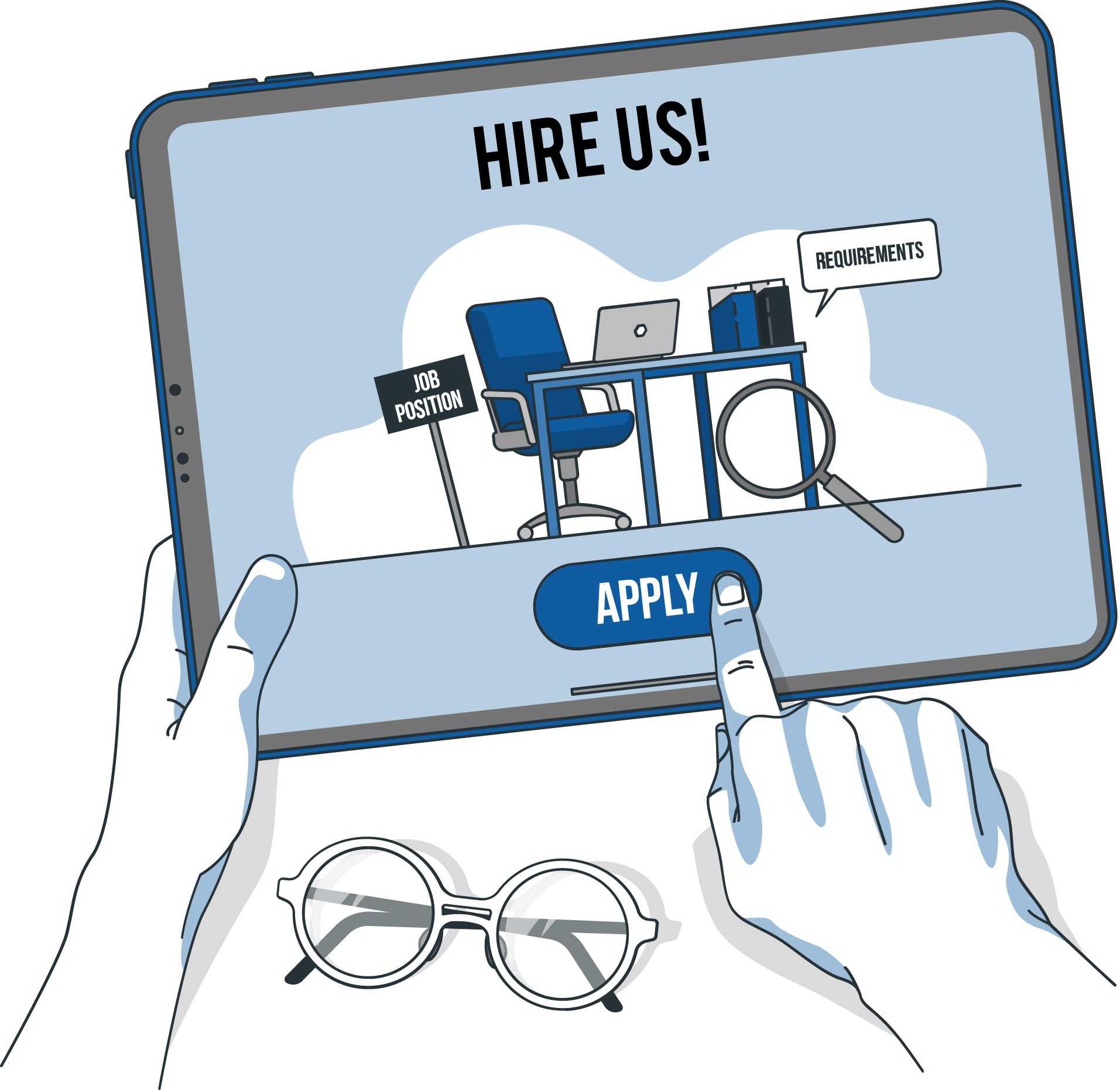 Take Your Development Projects to New Heights: Partner with Dedicated Developers
250

+

Skilled Professionals
Frequently Asked Questions
Q1. What are the top 5 reasons companies use outsourcing?
Ans. Companies outsource business processes for the following reasons:
To reduce and control operation costs

Enhance focus on business core activities

Free up time and resources for new opportunities

Leverage expertise from across the globe

Quick on-boarding of professionals
Q2. Who would benefit from outsourcing?
Ans. Both IT and non-IT companies benefit significantly from outsourcing. Retail, Healthcare, Real-Estate, and Entertainment are top industries that outsource various tasks regularly.
Q3. What types of services do outsourcing companies typically support?
Ans. Some of the standard tasks that outsourcing companies support are accounting, legal, manufacturing, information technology (I.T.), and I.T. or administrative support.