In 2001, we set out on a journey to deliver end-to-end web and mobile solutions that would contribute to business success. It goes without saying that technology has changed a great deal since 2001, and we're proud to report that we've remained at the forefront of the most cutting-edge technological advances and trends.
Based in New Delhi, India, Nethues Technologies Pvt. Ltd. has become an established tech solutions provider by merging business domain knowledge, proven methodologies, and the expertise of 250+ skilled professionals. We've served thousands of clients across Europe, Australia, and the UK.

E-commerce is one area of the tech industry that has experienced unprecedented growth since the early 2000s — and it's one of the many areas our team specializes in. We have wide-ranging experience building conversion-focused e-commerce stores and websites on Magento, PrestaShop, and WooCommerce.
We work hard to deliver the absolute best products and working experience to our clients, and we're thrilled that this hard work has paid off — we're ranked highly on Clutch, a reputable B2B ratings and reviews site.
Check out snippets of two 5-star reviews we've collected on our Clutch profile: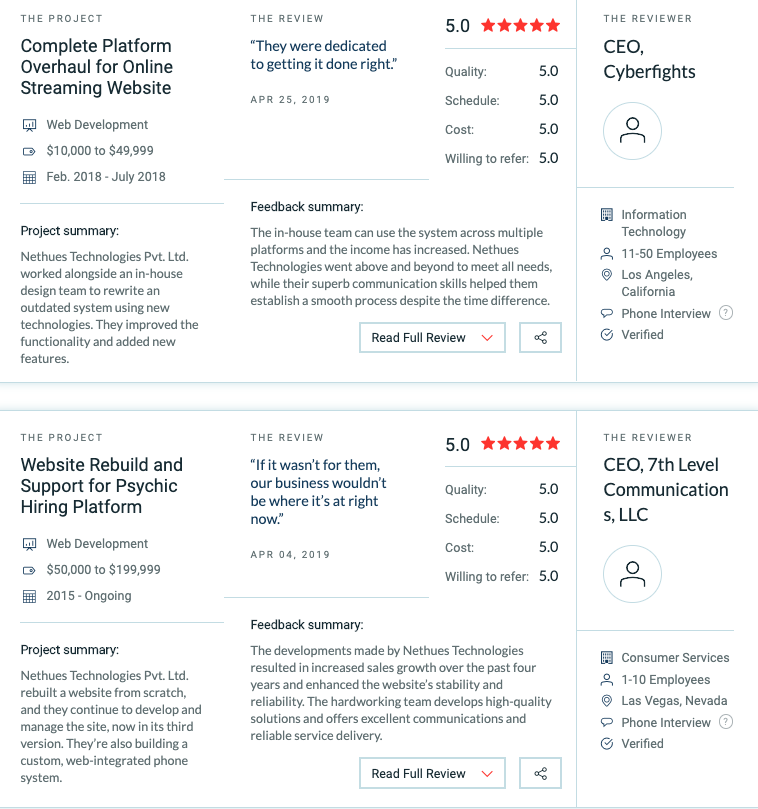 Throughout the year, Clutch highlights its highest-ranking firms across industries and locations. The Clutch Leader Awards recognize companies' commitment to building their expertise, providing stellar customer service, and producing high-quality results for clients. These firms meet their methodology's standards of excellence and can be trusted by potential B2B buyers to excel at new projects.
To be eligible for a Clutch Leader Award, companies must exhibit an unusually high ability to deliver top-tier work to their clients. Receiving this award is no small feat, so we're extremely excited to announce that Clutch recently named us a top e-commerce developer in Delhi!
"Nethues Technologies is proud to announce itself as one of the top E-Commerce Providers in India, according to Clutch's exclusive 2020 listings!"
— CEO, Nethues Technologies Pvt. Ltd.
We're committed to delivering the most innovative and impactful solutions to our clients, and receiving their positive feedback is what continues to drive us. From everyone here at Nethues, thank you to our clients and to Clutch for recognizing our hard work and merit.
Be sure to read our full reviews on Clutch to get an idea of what we're like as a partner and the type of results we're capable of delivering. And then, contact us — we'd love to transform your business vision into reality!