eCommerce sellers need to be able to track their webshops performance to optimize it for conversions and sales. Google Analytics 4 is a powerful tool that can help you do that.
Google Analytics 4 is a major update that reflects the evolution of the modern internet and apps.
In this post, we'll show you how to set up Google Analytics 4 on Magento 2, so you can start tracking your site's traffic, data streams, and performance data.
Why implement Google Analytics 4 (GA4) on Magento 2?
The eCommerce world was recently taken aback by an announcement made by Google. According to Google, the older version, i.e., Google Analytics Universal, which supported only the web channel, will stop processing data from July 1, 2023. Google recently launched the most advanced version of its universal analytics tool, i.e., Google Analytics 4 (GA4).
Universal Analytics tags have many benefits for websites, but it is being retired to make way for GA4. Universal Analytics is replaced with a newer and better version of google analytics property, GA4.
Integrating Google Analytics 4 with Magento 2 is essential for collecting more detailed and meaningful insights about web data stream, visitors, and their behavior.
How to add Google Analytics 4 in Magento
To embed the GA 4 in your Magento store, follow this algorithm:
1. Create a new Google Analytics 4 property in your Google Analytics account. Use the GA4 Setup Assistant that Google provides.
2. Create a data stream (your store) for this property and enable Enhanced Measurement to capture events. Write down your measurement ID, which starts from G- (image credit: Google)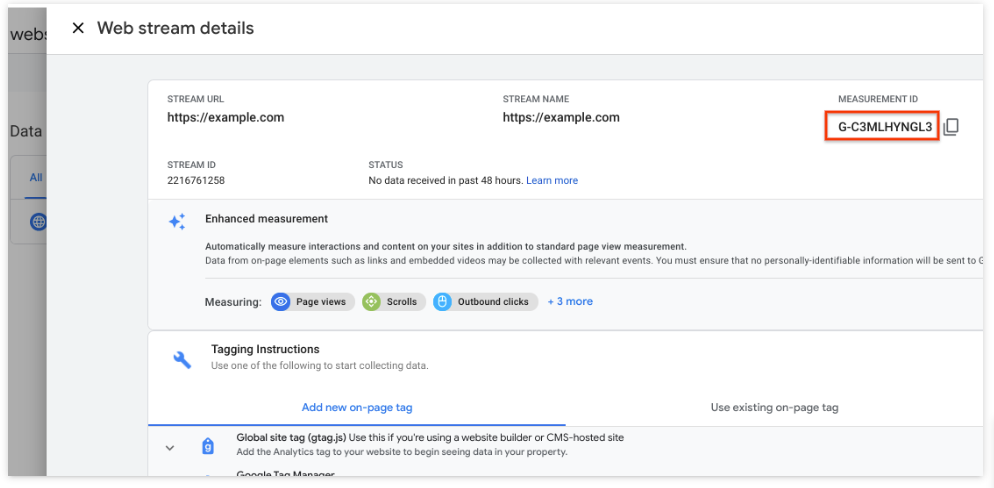 3. Create a new Google Tag Manager account. You will get two codes that you need to add to your store with a third-party module. For example, you may use Google Tag Manager.
4. Create a new tag in your GA 4 data stream to gather the user activity data layer. See the detailed guide on creating a GA4 tag.
5. Create custom parameters and event tracking you wish to do.
Enhanced Ecommerce GA4 Implementation For Magento 2 Via Google Tag Manager
By following the guide above, you'll have implemented a simple Google Analytics 4 tracking integration for your Magento 2 store, which will measure the following website data:
Page views
Scrolls
Site search
Outbound clicks
Video Engagement
File downloads
Connect with us, Today!
At Nethues, you can hire a Magento 2 developer to help implement Google Analytics 4, ensure its security, and more. We have a team of skilled professionals who make the process easier and seamless. Our team of skilled professionals has years of experience implementing Google Analytics 4.
We hope you'll find this guide helpful to set up Google Analytics 4 using Google Tag Manager, or you can connect with us and hire a Magento 2 developer.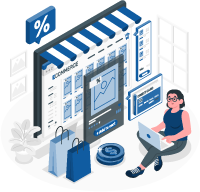 Choose Magento 2 for Unmatched Flexibility and Features!
250

+

Skilled Professionals
Frequently Asked Questions (FAQs)
Q1. What is the difference between Google Universal Analytics and Google Analytics 4?
Google Analytics is a web analytics service offered by Google that tracks and reports website traffic. Google Analytics 4 is the latest version of Google Analytics. It uses a machine learning algorithm to identify data patterns and predict future behavior automatically. GA4 also offers new features such as conversion tracking, cross-device reporting, and support for AMP pages. While GA4 is still in beta, it is available to all users.
Q2. How long does it take for Google Analytics 4 to work?
Google Analytics 4 can take up to 24-48 hours to collect and set up the data from your website. However, the data might sometimes take longer to be processed and appear, depending on the size and complexity.
While waiting, you can verify your tracking code is doing its job by checking your real-time reports and debugging view or looking at your website source code. Contact Google Analytics support for help troubleshooting any potential issues with your account.
Q3. How do I know which version of Google Analytics I have?
Firstly, open your Google Analytics account. If you have access to your Google Analytics account, you can look there to see which version you are running. To do this, log into your Google Analytics account and click on all accounts in the top left-hand corner.
Q4. How do I send test traffic in Google Analytics?
Log in to your analytics account.
From the left panel, click on admin. Click on admin.
Under the property panel, click on .Js tracking info and then tracking code. Click on the tracking code.
Click on the send test traffic button. Click send traffic button.
Q5. What language does Google Analytics use?
Google Analytics experts use JavaScript to transmit information to Googles servers about site visitors.