Creating a website can enhance the trustworthiness and visibility of any business, though the development process can be a little daunting.
Are you ready to make your eCommerce dreams a reality? PrestaShop, an open-source CMS, has an extensive presence, with 269,574 live sites and a total of 443,249 websites that have adopted the system in the last decade. Utilizing Prestashop, entrepreneurs can customize their stores, bolster their business, and entice potential customers from all over the globe.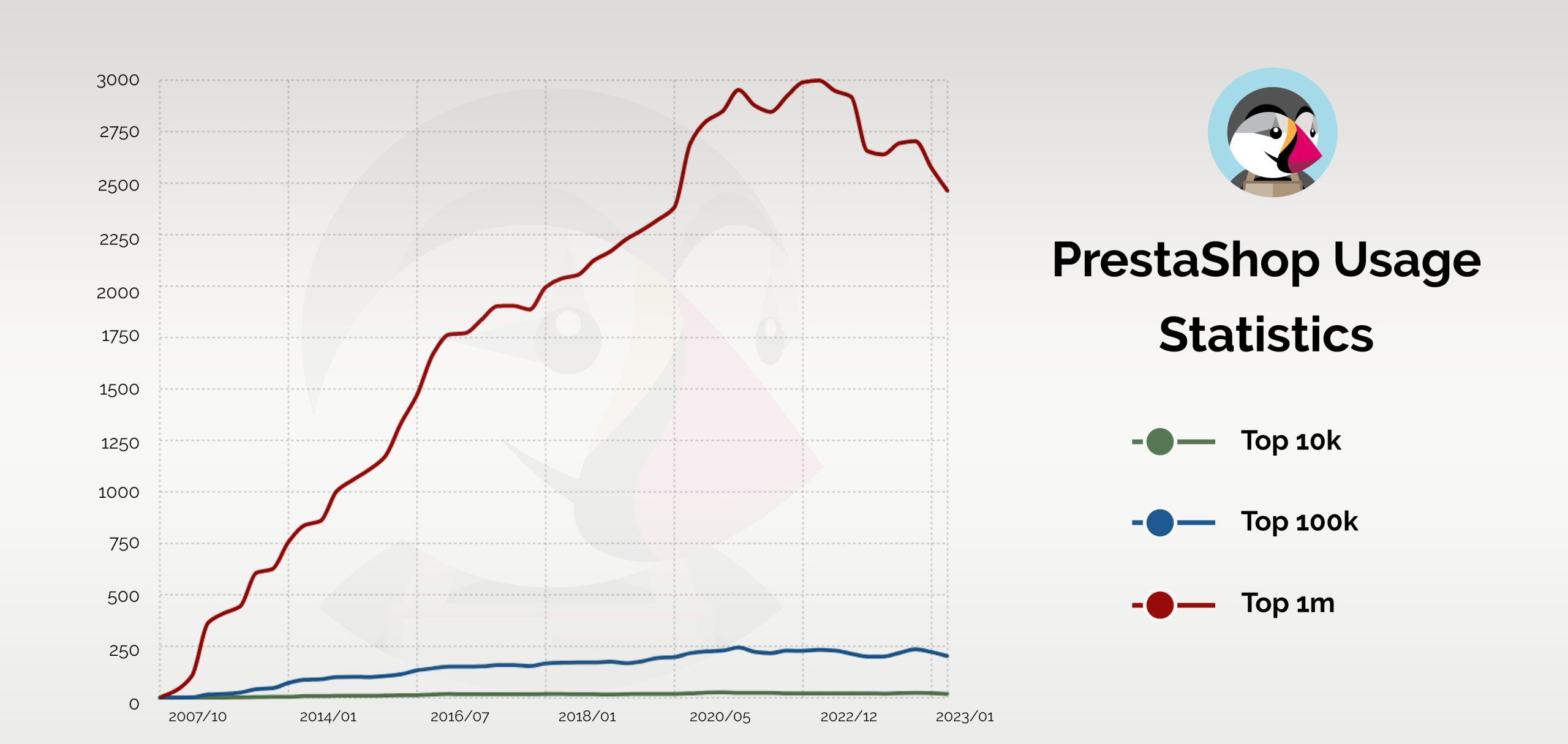 If you have an eCommerce idea you want to bring to fruition, the United States has a plethora of Top PrestaShop Development Companies to choose from. Before engaging any of them, be sure to consider the following elements.
Must Read : The Guide to a Successful PrestaShop Store
Let's Discuss this. 
Factors to consider before hiring a PrestaShop Development Company
Budgetary considerations are essential to selecting the appropriate PrestaShop development agency for your venture. Startups and major corporations should plan their budget carefully to ensure their business needs are met. Make sure to inquire about potential discounts, referrals, and additional expenses.
It is common practice for a trustworthy PrestaShop Development Company to showcase a portfolio. Reviewing a portfolio gives an insight into their product quality and developers' skills and experience. To further evaluate the company, a potential customer can request a sample of their work to see if it meets the criteria for their project.
Thanks to their expansive knowledge of PrestaShop, a reputable agency will leave no room for errors. Their team of developers will build an eCommerce store that captures customers' attention, ensures an enjoyable shopping experience, and successfully converts visitors into customers.
Every company handles projects differently. Some may require you to fill out a questionnaire or questionnaire before giving you a quote. After agreeing to it, they may or may not ask you for additional information as the project progresses and keep you informed of their progress. However, some companies may not update you throughout the duration of the project, which could lead to misdirection. Therefore, it must be avoided.
The timeline for the completion of your project is an integral element to consider when selecting the ideal PrestaShop development team. Hire PrestaShop developer to stay informed of all accomplishments and advancements in the project by requesting regular updates from the company.
You May Find This Interesting : How to Choose Right PrestaShop Development Agency?
Reasons to Outsource a PrestaShop Development Company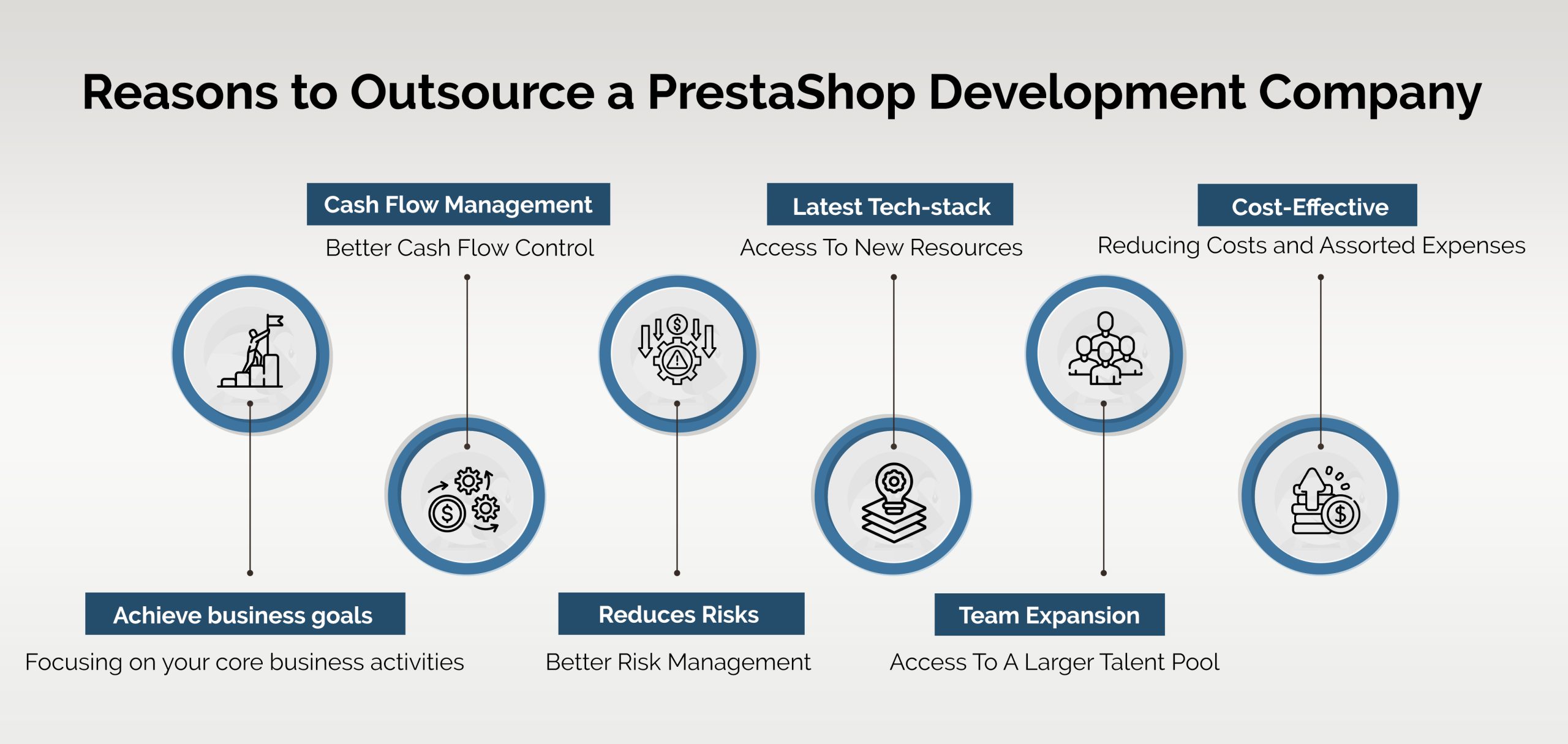 Focusing on your core business activities
Outsourcing can dramatically improve operational efficiency by allowing staff to focus on primary duties and planning while freeing time and resources. Tasks that don't align with the expertise and resources of your company should be entrusted to experts who are much more capable and have a greater capacity to deliver results quickly.
Reducing Costs and Assorted Expenses
No matter the size of a business, recruiting and onboarding personnel can be incredibly costly and lengthy, with no assurance that the investment of time and resources will pay off. Hire dedicated PrestaShop developers to reduce the associated costs and mitigate risks. This way, businesses only pay for services and the outcomes achieved, allowing expenses to be tailored to individual requirements. Furthermore, costs such as medical insurance and taxation can be significantly reduced when outsourcing.
Outsourcing employee-related costs can be an incredibly beneficial practice, providing much-needed resources to help improve processes and infrastructure in the early stages of business. Moreover, these firms often come with more than just their expertise; you also gain access to their software tools and other resources, further reducing overhead costs associated with the project.
Access to services and technology that would otherwise be difficult or expensive to acquire can significantly impact your business. When you Hire Developers, you can rest assured as they put a lot of time and effort into staying abreast of the quick-changing tech sector. By outsourcing your tech needs, you can leverage the services of an experienced team of professionals and focus only on meeting your deadlines and achieving desired outcomes.
In a plethora of scenarios, outsourcing is a far better alternative than taking the traditional route. Without warning, an indispensable staff member abandoning the organization can lead to countless setbacks like failed projects, delays, and even more extended recuperation periods. 
Instead of being frazzled and scrambling to look for a viable substitute, which could take months to acclimatize, Consider outsourcing. This can be the most effective route to operate without interruption, protect your venture during delicate times, and guarantee you always continue to mitigate and regulate potential risks.
Access To A Larger Talent Pool
Outsourcing allows businesses to tap into a larger talent pool that can help take the burden of a task or project off their shoulders. This enables them to have access to experts from various backgrounds and skill sets, streamlining the process of making use of their knowledge without needing to spend time and money to learn the task themselves. 
---
Also Read: Why are world-famous brands running on PrestaShop?
---
Top PrestaShop Development Companies in 2023
Leverage Prestashop to amplify your business. Utilize the trustworthy list below to discover the industry's optimal Prestashop Company.
Nethues Technologies Pvt. Ltd.
Nethues Technologies Pvt. Ltd. is a renowned web and app development company recognized by NASSCOM, providing top-tier technology solutions since 2001. We have served over 2500 customers across Europe, the United Kingdom, the United States, and Australia. 
We specialize in a range of web and mobile services, from eCommerce development using Magento, PrestaShop, and WooCommerce, to custom solutions built with MEAN Stack, MERN Stack, and Laravel, and native and hybrid app development. With our expertise in multiple domains, we provide results-driven solutions to various industries.
Concetto Labs
At Concetto Labs, with their expert team, they understand the importance of quality work and that everyday matters. Located in the USA, Canada, UK, Norway, and India, they strive to be the premier Web and Mobile App Development Company, creating exceptional applications to help you gain new clients.
eBizTrait Technolabs
eBizTrait Technolabs is a renowned provider of cutting-edge web development and digital marketing services committed to producing cost-effective, reliable, and results-driven solutions for customers worldwide. The company prides itself on meeting customer demands promptly and with exceptional quality, specializing in web design, web app creation, digital marketing, mobile app development, eCommerce development, and graphic/logo design.
ZealousWeb
For nearly two decades, ZealousWeb has been providing exceptional and visually-pleasing solutions through a range of services such as digital transformation, web design and development, mobile application development, custom software development, digital marketing, IT consulting, and branding and design.
SparxIT
For more than fifteen years, SparxIT has provided exemplary digital solutions resulting in numerous prestigious acknowledgments in the IT-Software industry. They are a renowned web and mobile app development firm specializing in delivering diverse IT services.
Webkul
Since its inception in 2010, Webkul has established itself as a renowned IT services provider, helping businesses worldwide overcome their intricate problems with their industry-leading digital transformation, ERP, and CRM solutions. Moreover, they have gained international recognition as Enterprise Digital Commerce and Marketplace Solution experts.
OrangeMantra
Since 2001, Orange Mantra has dedicated itself to making ideas come to life with IT solutions like websites, web applications, and mobile app development. They have been at the forefront of enterprise application implementation and customization for organizations across a plethora of industries.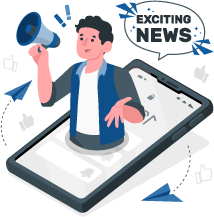 Enhance Your E-commerce Business with Our Skilled PrestaShop Developers!
250

+

Skilled Professionals
Frequently Asked Questions
Q1. How do I choose the right top PrestaShop development company for my project?
Selecting the ideal PrestaShop development firm for your project does not need to be complex. Here are a few pieces of advice to take into consideration to help you choose the most suitable one for your venture:
1. Take into account their past performance and portfolio.
2. Investigate their proficiency and level of expertise
3. Check if they offer the necessary services, maintenance, and support.
4. Look for reviews and recommendations.
Q2. Why Should You Choose PrestaShop For Your Business?
Choosing PrestaShop web development for your eCommerce project has the following advantages:
It offers an easy-to-use user interface and does not necessitate administrators to devote time to learning technical expertise.

Content management is more accessible than with other CMSs, which improves the SEO aspects of the online business.

It includes mobile-friendly themes and a mobile-friendly cart.

It is a free and open-source platform.

It allows you to manage several stores and maximize your eCommerce business.
Q3. What services does a top PrestaShop development company offer?
A top PrestaShop development company provides an extensive range of services, such as:
PrestaShop Design and Development

PrestaShop Module Development

PrestaShop Migration

PrestaShop 3rd-Party Integrations

PrestaShop Support & Maintenance
Q4. Why should I choose a top PrestaShop development company for my e-commerce project?
When looking for a web development firm for your eCommerce project, you should choose a leading PrestaShop development company like Nethues. Our experienced PrestaShop developers have vast experience in leading web development skills. Furthermore, they are knowledgeable in areas such as SEO and website optimization. With the help of their PrestaShop development services, you can succeed in growing your online store.
Q5. Can a top PrestaShop development company help me migrate my existing eCommerce store to PrestaShop?
Nethues, a top-tier PrestaShop development company, offers custom integration services and robust tools to migrate your eCommerce store to the PrestaShop platform. The extensive experience of our PrestaShop web developers gives us the capacity to handle e-commerce development effectively.