Due to the COVID-19 pandemic, many businesses have switched to online mode for generating revenues. Building an ecommerce store sounds a huge deal but not anymore. PrestaShop is one such platform which lets you build an incredible website that engages consumers, enhances conversion rate and much more. And so comes the next step to find the right PrestaShop development agency. There are thousands of agencies, but it takes a lot of research to choose the one that fits your business needs.
So we have listed down some major factors that can help you select the company for developing your website seamlessly.
Things to Consider While Choosing a PrestaShop Development Company
Budget
Budget is a crucial factor that plays an important role while choosing a potential PrestaShop development company for your business. Whether you are a startup or big brand, it is essential to strategize your budget as per your business requirements. Make sure to enquire about additional costs, discounts or referrals.
---
Also, Read More Here: Why Hire Top PrestaShop Development Companies In 2023?
---
Portfolio
Every proficient company maintains a portfolio either on its website or offline. By scrolling through their portfolio, you can easily evaluate the quality of their solutions, experience, and skills of developers. Moreover, you can ask them to send you their sample work to determine whether it can match your business requirements.
Experience
An agency with immense experience in PrestaShop development will leave no room for errors. With certified PrestShop developers at place, you will receive an eCommerce store that engages customers, offers a pleasing shopping experience, and converts visitors into customers.
Approach
Every agency has a different approach to working on projects. Some will ask you to fill out a short form or a brief, and then they will provide you with an estimate. Once you agree to that they will begin working on that project. They may or may not ask for further details during the project; keep you updated with the progress. However, some companies don't keep the clients updated during the process. This practice can lead you to the wrong turn. AVOID THAT!
Development Process
Another essential factor for selecting the right PrestaShop development company is the estimated time of the development process. Make sure that the company keeps you updated about the project's accomplishments and implementations.
Reasons to Invest in a Dedicated Developer from PrestaShop Development Company
The Authenticity of PrestaShop Inc.
Finding the right PrestaShop developer for your project can be tricky. It's crucial to ensure that you hire an individual with a comprehensive understanding of the platform, and the best way to do this is by requiring proof of certification. 
PrestaShop Inc. offers a rigorous certification exam that verifies a developer's expertise in the software, associated programming languages, and other eCommerce-related aspects. When working with our development company, one can rest assured that your designated developer is a certified professional guaranteed to help with all things PrestaShop.
Skills & Expertise
Skills are an integral part of the hiring process for any professional. A dedicated PrestaShop developer is knowledgeable and trained not only in PrestaShop but also in related technologies such as HTML5, CSS3, MySQL, and JavaScript. Such an expert can customize PrestaShop themes to ensure it is both user-friendly and responsive, as well as optimize them for Search Engine rankings. Moreover, with their programming skills, dedicated Presta developers can create specialized modules to help automate routine processes for increased efficiency.
Commitment
Once you approve the roadmap, a skilled PrestaShop engineer will start working on your project immediately. You can expect no delays or interruptions during the development process, as the specialist will be dedicated to completing your project on schedule. Post-completion, they are available for an additional 60 days to provide ongoing maintenance and support to ensure your PrestaShop remains optimally operational.
Transparency
Transparency is a rarity in today's digital landscape. Companies often become anxious about the legitimacy of their project concepts and the staff dedicated to them. This concern can be relieved by appointing a professional PrestaShop expert. 
At our agency, we deliver 100% transparency. Our team utilizes Basecamp, Slack, and Skype for our projects, and these platforms are made available to our clients for direct collaboration with the teams. In addition, we assign a project manager to facilitate communication, keep clients informed through reports, and keep everyone apprised of current progress, daily tasks, and future schedules.
Cost Efficiency
When you hire a dedicated developer, you'll save your business money in terms of payrolls, liabilities, medical coverages, and pensions. You won't have to cover any infrastructural needs either. There's no need to pay for the communication and collaboration tools subscription. Your dedicated developer will bring all the necessary tools and technologies for the job and provide maintenance and support. It has been proven that hiring a dedicated PrestaShop developer guarantees cost efficiency.
Closing Thoughts
Seeking an expert PrestaShop developer? Our committed team of PrestaShop experts will take your eCommerce to the next level with their certification, experience, and skills.
We understand that finding a PrestaShop development can be a big hassle. But your search ends here, As a PrestaShop partner agency, we offer incredible web development solutions to transform your business. Our team of certified developers has in-depth knowledge and strives hard to develop exceptional e-commerce stores. We offer high-end solutions for efficient performance, from developing personalized modules to integrating third-party modules. Let us connect you with our talented professionals. Connect with us today.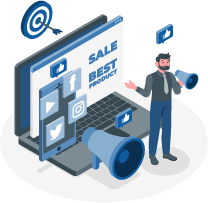 Enhance Your E-commerce Business with Our Skilled PrestaShop Developers!
250

+

Skilled Professionals
FAQ
Q1. Why Should I Hire a PrestaShop Development Agency?
A PrestaShop development agency is an invaluable partner for any business looking to create and maintain a successful online store. With their expertise, cost-effective solutions, timely delivery, ongoing maintenance, and customization options, they can help take your online business to new heights.
Q2. What questions should I ask a PrestaShop Development Agency before hiring them?
Having a clear timeline and an idea of the project's cost and experience with PrestaShop development. This will help you manage your own expectations and keep the project on track.
Asking these questions will give you a good understanding of the agency's experience, capabilities, and whether they're the right fit for your project. With the right team, you'll be well on your way to launching a successful online store.
Q3. How Much Does it Cost to hire a PrestaShop Development Agency?
Investing in a PrestaShop development agency might appear costly initially, but it's an investment that can provide bountiful returns. By collaborating with an expert and experienced team of developers, you can develop an impeccable eCommerce platform that satisfies your business goals. 
Q4. Can I hire a freelance developer instead of a PrestaShop Development Agency?
Hiring a PrestaShop development agency rather than a freelancer is suggested for the best outcome. Ensure to look into aspects such as pricing, past works, client feedback, and the agency's experience. Moreover, ensure to convey your project requirements in detail to the development team.