Gone are the days when search engines didn't read much into the actual intent of the searcher's keyword. As we approach the 2020s, things have changed for sure.
Behind every online search, there is a user's intent – the information they are looking for, the product they want to buy or the service they want to avail.
Considering the amount of data available on search engines, especially Google, the user is ought to find the desired piece of information by hook or by crook. However, the efforts and time involved aren't fixed – it might vary from seconds to minutes to hours. Moreover, the results might not be accurate (in some cases).
How about creating and optimizing our content with your users' and potential buyers' search intent keywords? Doesn't this sound amazing?
Referred to as search intent, the practice aims at improving your eCommerce PPC and SEO efforts. A page that's well-matched for user intent can outperform those that optimize primarily for search engines – in search and after the click. Further, satisfying search intent is Google's fundamental goal – which is why an eCommerce store owner should know how to properly identify it and make the most out of it.
Let's start with the basics:
What is Search Intent?
In a layman's language, search intent is the why behind a search query i.e. why did the person make this search? Do they want to learn something? Do they want to buy something? Or, are they looking for a particular website?
Simply put, search intent represents the reason and aim of search engine users when they are looking/searching for relevant results. It can be either information, specific website/product/service or any other result that satisfies their need.
Types of Search Intent
In order to provide potential customers with relevant and useful content, it is important to know the types of user's search intent.
Following are the four types of search intent: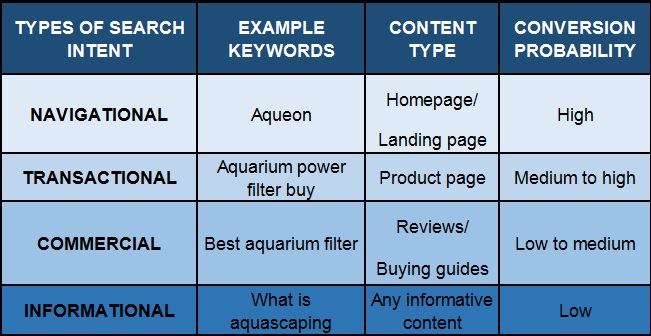 Let's make it crystal clear with a brief detailing.
Navigational
Referred to as specific, this type of search intent involves users who already know what they are looking for or where they want to go. With this intent, they are searching for a specific website, service or product. It's probably just quicker and easier for them to Google it than to type the entire URL. They may also be unsure of the exact URL.
How to identify navigational intent?
Navigational intent searches are quite easy to identify. Reason being: they usually include the name of the brand, product or service.
For example:
"Nethues services"
"Twitter login"
"PrestaShop official blog"
"Gmail"
Transactional
Transactional searches are when the user is ready to make a purchase. They're in buying mode. Most likely, they already know what they want to buy.  Therefore, they just need to compare prices, find the best deal and the place to buy desired items or the nearest store location.
How to identify transactional intent?
Transactional intent searches are made of modifier words like "buy", "order", "shop", "purchase" "affordable", "cheapest", "discount", "top", "price", "pricing" etc.
Examples of Transactional search intent keywords:
"Best Magento 2 migration deal"
"Order bags online"
"Buy MacBook pro"
"Affordable dining options"
Commercial
This includes a searcher who wants to buy a specific product or service but has to make the final decision on which solution is perfect for them. Such searchers are most likely looking for reviews and comparisons.
Such queries represent a closer point to conversions. Thus, you need to optimize your pages in order to help searchers with detailed investigations and relevant information for making the buying decision.
How to identify commercial intent?
Commercial intent search queries usually contain words such as "best", "versus", "review", "top", "comparison", etc.
For example:
"Best mobile app agency"
"Top restaurants in Delhi"
"iPhone versus One Plus"
"Nethues review"
Informational
As the name suggests, here the searcher is looking for some kind of information. This might be an answer to a simple question like "who is the president of India?" or something that requires a longer and more in-depth answer like "how does an air-conditioner work?"
Those searches represent the lowest likelihood for conversions since users are just looking for specific information, answers or want to learn more about a certain topic. However, it doesn't mean that you should ignore it in your marketing efforts – it represents the start of purchase and could bring conversion in later stages of the customer's journey.
How to identify informational intent?
Made of modifiers such as "how", "what", "who", "why", "where" or "tips", informational search intent generally comes in form of questions or phrases that demand information. However, not all informational searches are formulated as questions.
For example:
"Who is Julian Assange?"
"Delhi airport directions"
"How to boost sales?"
"Cricket scores"
Now, an immediate question that might pop-up in your mind could be
How do I Optimize Content for Search Intent?
Firstly, you want to make sure that a landing page fits the search intent of your audience. If people search for information, you don't want to show them a product page. At least, not immediately. This could probably scare them away. If people want to buy your product, make sure you don't end up torturing them with long articles. Just concentrate on lead them to your shop.
Secondly, optimizing your product pages for more commercial driven keywords is a great idea. Try and find the right keywords that can be implemented in your SEO and PPC strategy. Afterall, keyword research is the cornerstone of every digital marketing activity.
Sometimes, it can be quite difficult to determine the search intent of a query. And, perhaps different users will have different user intent, but still, land on the same page. If you want to know more about the search intent of your audience, the best way is to ask them by conducting a small survey. This will probably give you more insights into the search intent of your audience.
Summary
To sum up, in case you'd like to see your pages and ads rank higher or prove relevant to the search intent, make sure to give potential users the results they want. It's important to ensure that your content fits both what people are searching for and the search intent of your audience.
A clear message, optimized page titles and headings, relevant page descriptions, product images and descriptions will surely help you get better results.