eCommerce is booming. The opportunities to grow a business online are immense. But which eCommerce platform should you choose to sell your products online? How can you determine the best eCommerce solution for your long-term business growth? Keep reading to know.
Choosing the right eCommerce platform is essential to the success of your online store. The wrong platform can limit your growth, while the right one can help you grow your business far beyond what you could have imagined. However, this can be tricky, as there are numerous eCommerce platforms to choose from, and each comes with its own set of pros and cons.
Don't feel overwhelmed! We will cover everything precisely.
Whether you're just starting or looking for a new eCommerce site development platform to migrate your webshop, read on for the ultimate guidance from experts.
Nethues has been in the eCommerce development sphere for over 20 years. Having closely observed the trends, markets, challenges, businesses, and audiences, we have developed the right expertise you are looking for to guide you in choosing an eCommerce platform.
We will be discussing each factor in detail so you can shortlist the top eCommerce platforms for your business that are performative, secure, future-proof, and built on a reliable stack of technologies.
What is an eCommerce platform?
Whatever you've seen it spelt on the internet – eCommerce, Ecommerce, E-Commerce, or e-commerce, all lead towards the same meaning. An eCommerce platform is software, or you may call a powerful tool, that helps you sell products and services online. It is an organised set of frameworks that helps you manage your business's website, marketing, sales, communication, products, customers, brand reputation, data, and almost everything eCommerce from your platform's admin dashboard.
Back in the early years, eCommerce solutions weren't much advanced. There weren't many customisation capabilities, optimisation features, and technical reach for expanding an online business. But today, with these practically advanced eCommerce platforms, one can fully automate their business and keep track of it through their smartphone. (Some quick notifications and settings from their smartwatch too)
---
You May Find Interesting : 10+ Reasons Why Shopify Remains The Best ECommerce Platform
---
Different types of eCommerce platforms?
When you are searching for an eCommerce platform, you should make a professional choice by considering all different types of eCommerce platforms.
1) Traditional Platforms
Traditional eCommerce platforms make you pay a one-time upfront license fee. Your IT team then builds and customises your webshop on top of it before installing it either in-house or into cloud services like Amazon Web Services (AWS). Some examples of traditional eCommerce platforms include – Oracle Commerce and IBM Digital Commerce.
2) Open Source Platforms
An Open-Source eCommerce platform doesn't make you pay an upfront platform usage or license fee. This is also one of the reasons why most digital commerce companies prefer to choose them. However, with an open-source platform, you do need to pay for initial designing, development, integrations, ongoing maintenance, version upgrade, and migration services (if required). Some globally recognized examples of open-source eCommerce platforms are – Adobe Commerce (Magento), PrestaShop, etc.
3) Cloud Hosted Platforms
Cloud eCommerce platforms are systems that store your data and deliver it through the internet. It means they're always available, even when you're offline. Some open-source and traditional eCommerce platforms have started introducing a cloud version of their hosting system and now market themselves as Cloud Platforms. Examples are Magento enterprise cloud, Salesforce Commerce, SquareSpace, etc.
4) SaaS ecommerce platforms
A SaaS eCommerce platform is an online eCommerce software built on a single codebase and delivered as a cloud-based system. It can be accessed through all varieties of web and mobile browsers and is generally sold on a subscription basis. SaaS eCommerce solution is in huge demand these days. These platforms make it incredibly accessible for beginners but also capable enough in terms of features so small businesses don't feel left out either.
5) Fully Tailored eCommerce Platforms
While this is more of an approach rather than the type of eCommerce platform, fully-tailored platforms require a professional developer/engineer to construct and precisely tailor an eCommerce management system for your business. Since open-source and cloud-hosted development solutions have emerged, this method is getting less popular. It is particular to companies with a unique niche and requirements they believe none of the pre-available eCommerce platforms could fulfil.
---
Also Read : Get Ahead Of The Curve: Preparing Your ECommerce With Adobe Commerce 
---
Which is the best eCommerce platform?
Joel Anderson (CEO of Walmart) once said – "You can't just open a website and expect people to flood in. If you want to succeed, you need to make an effort. Depending merely on technology and funds won't take you farther enough."
Following such inspiring words from the world's leading eCommerce business creators, we figured out that there is no such thing as the best eCommerce platform.
Selecting an eCommerce platform based on its usage and popularity is not the right approach. Any eCommerce platform could be 'The Best' if it successfully delivers the outcomes and fulfils your company's objectives.
We should analyse our needs and goals first. These goals could be increasing revenue, improving customer engagement, targeting a new market, brand expansion, etc.
Besides, the best eCommerce platform is the one your team can easily comprehend and use optimally. For instance, if you choose an eCommerce platform recognised worldwide for its performance, but its learning curve is too steep, your team cannot make the best use of it. In that case, you may hardly have a chance to achieve your business goals.
Factors to consider while choosing the right eCommerce platform
To narrow down your chances of making a wrong decision, consider these factors while choosing an eCommerce platform.
Features
Features are the first and foremost factor you should consider while selecting an eCommerce platform. Since all platforms come from different backgrounds, they inherit their unique features and tools. You will see platforms offering you a built-in analytics system, a built-in price calculator, a built-in security system, and whatnot. You must analyse your needs first, and then all the tools and functionalities you require to run your online business smoothly. Following this, you can shortlist a platform with features adequate to you.
Pricing Options
Pricing can dramatically affect your bottom line and how much revenue you generate. When selecting an ecommerce platform, it is essential to consider pricing. Make sure to compare and calculate the total cost of ownership before making your final decision. Though pricing is not the only factor you should consider, it could significantly affect your company's budget. Pricing options should be carefully examined by looking at what features are included in the free plan and what you are leaving off in the most premium plan. Most eCommerce platforms run on monthly billing cycles. Thus, it is crucial to check before you commit to an eCommerce platform for long-term usage.
Security
According to a 12-month analysis by Imperva Research Labs of cybersecurity, 57% of digital attacks on eCommerce websites were made through automated bots, compared to 33% for all other industries. Believe it or not, Security and Compliance are one of the most important things to consider when selecting an eCommerce platform. You are actively transacting money through your website, making people believe it is safe. Hence, it is necessary that your eCommerce platform is PCI compliant and SSL secured. It must inherit advanced security mechanisms like 2-factor authentication, Frontend/Backend CAPTCHA, advanced admin access permissions, Cross-Site Request Forgery (CSRF), etc., to ensure your business and customers remain safe.
Performance
Performance matters, and we're serious about it. Even a single second delay in load time can result in 11% fewer page views, a 7% drop in conversions, and up to 16% decrease in customer satisfaction. eCommerce stores need to process so many images, making it compulsory for them to act fast. An eCommerce platform should support performance boosting tools like CDN (Content Delivery Network), caching and memory management, data compression, site speed analyser, redirection avoider, etc.
Usability & learning curve
Your team can only bring the best of your eCommerce platform if they can process its features and usage in their minds. A complicated platform with high-end features won't benefit you, but a straightforward platform with moderate features can. The usability of the eCommerce platform you choose should be explainable to your teams, whether the development team, marketing team, logistics team, or customer support team. Since you'll need all of these departments to take your eCommerce from ground to success, it's vital that everyone gets familiarised with the platform.
Customer Support
We are talking about eCommerce and websites here. When things go wrong, and sometimes when they are out of your developers' hands, you need the platform's official support to help you resolve the issue. Hence, always look out for eCommerce platforms that provide 24/7 emergency support with multiple contact channels, including – email, web-chat, phone, etc. Just because a platform's claiming continuous support doesn't mean they offer live support tickets and help after business hours. It's essential to pay careful attention to client support while selecting an eCommerce platform because support is one of those things you might not think about until you need it.
Design Flexibility
Researchers confirm that 94% of a user's first impressions come from your website's design. Design flexibility is one of the most important factors when choosing an eCommerce platform. Flexible designs allow businesses to adapt and change their store as they see fit. It means that any new products or changes in marketing strategies won't disrupt your business's daily operations like they would if you were using a rigid design strategy such as static HTML files with no styling options. Also, developers should be able to make designing decisions outside constraints imposed by website templates (which can often be very limited).
Platform Scalability
Your eCommerce platform is the central hub of your business. As your business grows, will your eCommerce platform grow with it? Therefore, always ensure the platform scalability when it's about an eCommerce business. Maybe you think you are a small business that doesn't have thousands of SKUs or any inventory expansion plans, but scalability is significant. It's not always about growth. If you sell seasonal products, you should be allowed to ramp down and pay less. Scalability must work in both directions.
Recommended Read: Upcoming eCommerce trends you should adopt for success in 2022 & beyond
Marketplace
Bigger the marketplace – the better the options. Better the options – The better the choice. And ultimately, better business growth. An eCommerce platform should have its official marketplace of plugins, theme templates, add-ons, and modules. Marketplaces are a great way to find features you need to increase your webshop's capabilities. There's no need for users looking in this direction, as they can use the marketplace and be confident that any extension from there will work with their store without hassle. Marketplaces also have prebuilt theme templates, making designing more creative and effortless. It offers exciting tools such as SEO checker, keyword planner, accounts manager, Google analytics, campaign planner, etc, that can uplift your marketing, accounting and other regular business activities to a whole new level.
SEO Friendliness
If you own online store, you must have an idea that search engine queries are how customers find your products. eCommerce platforms with comprehensive SEO features will enable your webshop to rank highly in search engine results. Which consequently means more sales. Your platform should make it easy for you to create SEO friendly pages and add keyword optimised content to them. It would be perfect if you find an eCommerce platform offering you built-in SEO management features like – Adding a blog post, Allowing customers to leave reviews, Meta content creation, Optimising page URLs, etc.
Mobile Friendliness
A mobile-friendly platform is a must. Even Google loves mobile and includes mobile-friendly as a webshop ranking factor. As researchers suggest that mobile commerce in Germany, the US and the UK will make up one-third of all retail eCommerce sales, your eCommerce platform must be able to offer you a mobile-friendly and responsive web design, enabling your customers to access your products and services from whatever device they prefer – Smartphone, Desktop, Tablet, or Smart Television. A mobile-friendly eCommerce platform is necessary to succeed in today's eComm world.
Update Releasing Frequency
eCommerce platforms should receive regular updates from their manufacturers to ensure an optimal and bug-free user experience. Updates are not just performance-based. They consist of security patches too, which strengthens the platform's ability to resist newly emerged cyber, phishing, and trojan attacks. Not all eCommerce platforms offer regular security updates. Some make their users get their webshop's updated via the platform's developer community. Therefore, choosing an eCommerce platform with an official update release cycle is essential. Adobe Commerce and PrestaShop are some reputed names having a great history of releasing platform security and optimisation updates.
Final words
Now that you understand the different factors to consider when choosing an eCommerce platform, it's time for you to get started. Take some time to evaluate your needs and what you want your eCommerce store to achieve. Once you have a good idea of what you need, reach out to us for a free consultation. Our team of experts will help guide you through selecting the best eCommerce platform for your business. With our help, you can ensure that your online store is set up for success from day one. Thanks for reading!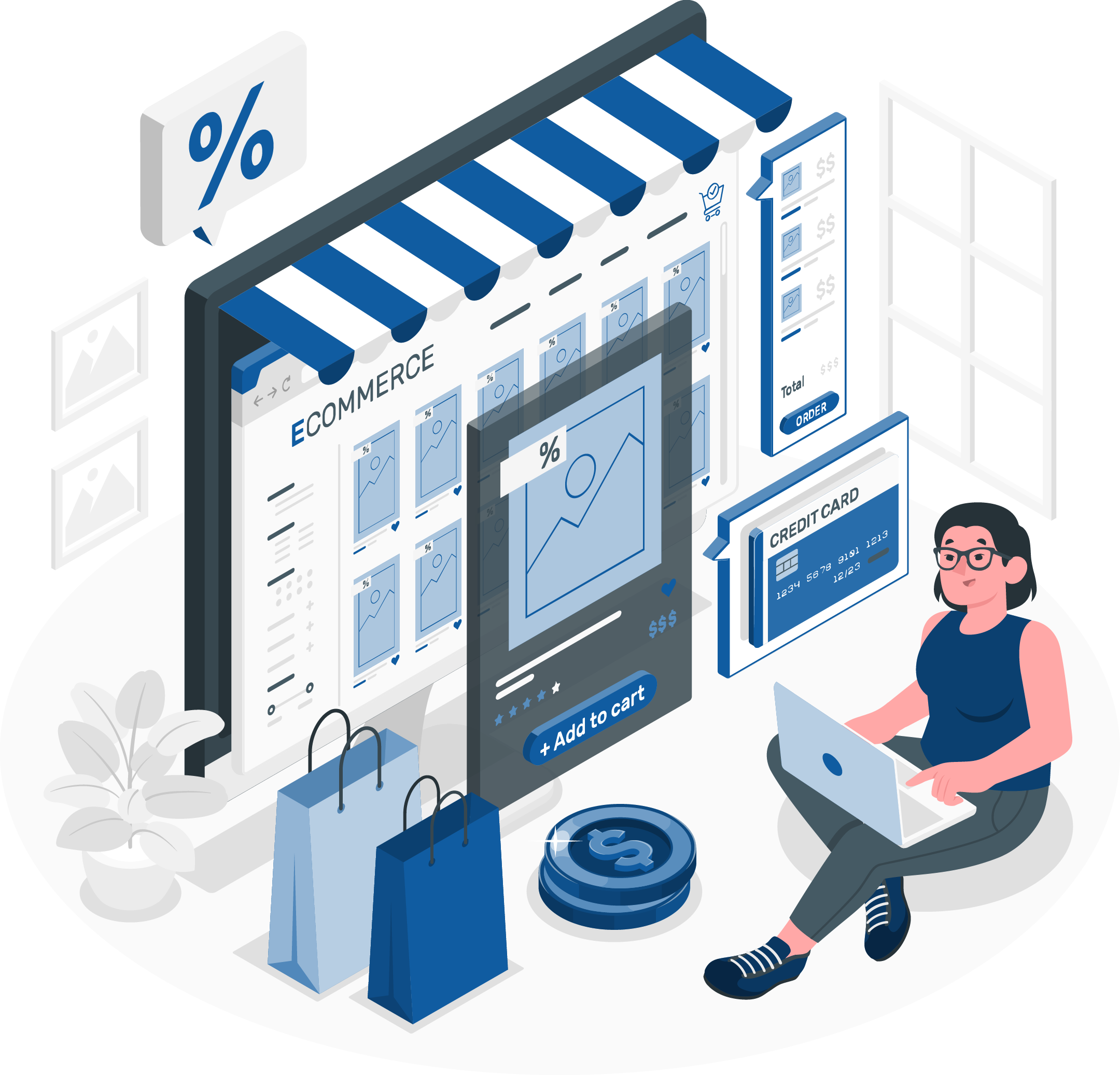 Partner with a Top-rated Development Company Today
250

+

Skilled Professionals