Since Adobe acquired Magento in May 2018, announcements about their future plans for the platform have been scarce. However, a few months back (September 2018) they announced that Magento 1, both Community and Enterprise editions, will no longer receive maintenance, security and updates after June 2020.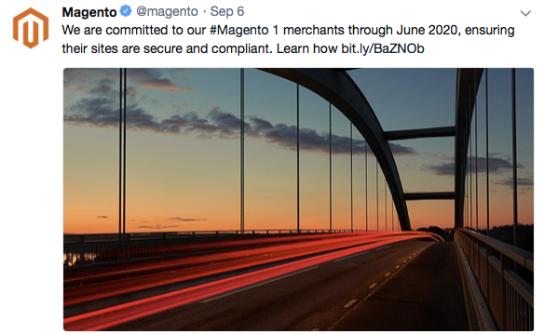 Initially released in 2014, Magento 1.9 is/was adored by innumerable businesses. Though the ones who are still excelling on their current Magento 1 implementations might be saddened by the news, luckily, you still have a good amount of time to make a business plan and execute for maximum gains and ROI.
However, this certainly includes a schedule for migration to Magento 2 and upgrading your website. Before June 2020 kicks in, your business should be ready for the transition and accept it in the most phenomenal way.
Impact & Solution
With Magento ending support for Magento 1, the impact is certainly going to be massive. Merchants using the platform have to find a way out in order to operate seamlessly. Here are the two possible solutions:
Migrating To Another Platform
Migrating To Magento 2
Let's explore both :
Migrating To Another Platform
The thought itself sounds evocative.
Migrating from Magneto to some other eCommerce platform is inviting a group of problems. Along with consuming ample amount of time, it can lead to data mishandling, losing search engine ranking, high costs to name a few.
Furthermore, you won't be able to enjoy Magento benefits like multi-language support or a product builder – since hardly any other platform offers these. Thus, this option seems purposeless.
Migrating To Magento 2
This sounds pretty amazing!
The countdown to 2020 can be seen as an exciting chance to explore the comprehensive set of new features, performance improvements and security enhancements provided by the Magento 2 platform. A number of newly built eCommerce sites are being developed using Magento 2, marking an important benchmark for competitive edge.
Moreover, a huge number of development companies offer impeccable, safe and affordable Magento 2 migration services – you just got to choose the right one. Here's why:
Magento 2 has in-store some of the most astounding features including:  
Ajax Cart: Using javascript to add items to the shopper's cart without reloading the entire page, Magento 2 Ajax cart helps in reducing the load on hosting hardware and results in a more responsive experience for your shoppers.
Cache: Magento 2 brings improved caching system including native support for caching technologies like Varnish, a popular HTTP accelerator. The caching systems store frequently accessed page elements and serve them up faster to your visitors.
Faster Search: Boasting search improvements, Magento 2 allows customers in finding your products quickly and efficiently.
Smarter Product Creation:  The new product creation tools allow you to quickly and accurately add products to your store – up to 4 times faster than Magento 1.
Improved Data Filtering:  With a robust data grid view, Magento 2 gives you the ability to customize the shown attributes. This leads to clean interfaces and helps you to see the desired data.
Simultaneous Admins: Magento 1 was designed for a single admin user. For larger sites that might have multiple admins, this was a huge productivity drain. However, Magento 2 has safeguards that allow multiple administrators to work on product data simultaneously, allowing you to easily keep your store's products up to date.
PHP 7: Magento is built using the programming language PHP. Magento 2 is optimized for PHP 7, which means superior performance to previous PHP versions.
Apart from these, mobile-friendliness, improved navigation, product videos, easy upgrades also form a part of the benefits and advantages.
Conclusion
Amongst the two options, the latter seems advantageous and feasible. Whilst Magento support will be available for the few months, we advise you to invest effort in the migration to a newer platform, sooner rather than later.