Planning an upgrade to Magento 2? Want to learn everything about it? – You have come to the right place.
Having worked as an Adobe bronze solution partner and Magento 2 development agency for more than a decade, Nethues has served countless Magento store merchants having the following questions in their minds:-
Why upgrade to Magento 2?
When is the right time to do it?
What is the difference between Magento 2 upgrade and Magento 2 migration?
Magento upgrade seems risky! How can I ensure security?
What are common Magento 2 upgrade challenges?
Well, there are tons of benefits of upgrading your Magento webshop. And yes! It could be risky if you don't follow a proper approach.
Today in this comprehensive guide to Magento 2 upgrade, our certified developers have covered everything you need to know before, during, and post this inevitable yet technical process.
Since we have tried to cover as much as information, you may use the below provided TOC to navigate to your preferred section.
Table of contents
Magento 2 – Introduction
Magento 2 is the new and improved version of Adobe's famous eCommerce platform – Magento. Recently rebranded into Adobe Commerce, this CMS is trusted by more than a million eCommerce websites including the world's leading brands such as – Coca-Cola, Ford Motor Company, Tommy Hilfiger, AsusTek, etc.
Magento 2 Upgrade – Simply Explained
upgrade to magento 2 guarantees that your platform is kept up to date with the most recent performance, functionalities, and security enhancements. This means your website will be more responsive, you will have access to the newest and greatest features, and most importantly, your consumer information will be safe.
Think of your smartphone. Every few weeks it gives you a software update, you tap install and that update release is installed and transferred to your operating system. Magento 2 upgrades should feel no different, but instead of clicking a button on your webshop, you need a reliable development partner to carry out the upgrade for you.
But there's still some hesitation from merchants to carry out these upgrades. The most common complaint we hear from new clients is that the procedure is expensive and time-consuming. Yet, there is more than one challenge to Magento upgrade.
Must Read: Magento 2 Migration – Should You Upgrade in 2022?
Most Common Magento 2 Upgrade Challenges
Persuading merchants to upgrade to Magento 2 hasn't been easy. Some of the challenges that we had to disclose first include:-
If a merchant using Magento 1.9 or 1.14 has advanced webshop customization, all of their code will have to be rewritten for Magento 2.0. Many 3rd-party Magento extensions can be updated, but not all of them may support the upgrade. In such a case, you can either wait for the extension provider to update the code or pay your developers to write custom code to make the extensions compatible with the new Magento version.
There is no backward compatibility, so once you upgrade, you can't go back.
Migrating data includes a complete reinstallation of Magento 2, after which your data is transferred. However, all aspects of the media store design and ACLs (Access Control Lists) will need to be migrated manually.
When upgrading from Magento 1.9 to 2.0, not all of the themes developed for that version will work out of the box, which means they will need to be completely reconstructed.
There's an Adobe data migration tool that should assist you with most of the data (store configuration, products, customers, orders, promos, shopping cart rules, and so on), but you'll have to migrate custom and extension data manually.
Types of Magento Upgrade
Presently, Magento has two types of upgrades.
Magento Releases Upgrade
Magento Patches Upgrade
Magento Releases Upgrade
Generally, new Magento versions include bug and security fixes as well as new features and enhancements. Every release includes a number of modifications, although the version number is changed (e.g. from 2.3.1 to 2.3.2).
After these upgrades, you might run into some compatibility issues between your newly upgraded Magento version and your theme, extensions, or customizations. Very often after these upgrades, you may also need to hire a magento certified developer to fix incompatibility troubles and make the webshop work properly again.
Magento Patches Upgrade
Patches are a kind of upgrade that only address the most serious concerns. They can be used to fix critical bugs or security flaws. Magento patches are ideal for situations when you don't have time to do a complete upgrade, but need to safeguard your webshop from cyber security threats. Magento adds a tag to the version number after applying a patch (e.g., 2.3.4-p2).
Patches just modify a few files. They don't include any new features or functions. As a result, after you've applied patches, your business shouldn't have any more compatibility issues (in rare circumstances, it's possible). As a result, you won't have to re-test your store's functionality thoroughly. Patches are generally quick and simple to apply. Also, because the number of affected files is less, if you run into a problem, it's usually easy to identify and repair with the help of a certified developer.
Things you should know before upgrading to Magento
1) Necessity of the upgrade
Upgrading your platform isn't only a good strategy for increasing your company's revenue. It is also essential for platform security, which protects both your company and its customers' data.
You can't afford to overlook customer data. If your data is exposed and you suffer a security breach, not only will your reputation be ruined, but you'll also lose the confidence of your consumers. It's not an easy task to recover from that kind of embarrassment.
Every release also includes plenty of bug fixes and performance improvements, which address problems with the core application. Most merchants are unaware of these problems. When it's too late, they typically find out about them, such as missing out on significant revenue opportunities or suffering a security breach. Regular platform updates prevent these problems from occurring in the first place.
Another thing to consider is that if you don't upgrade your system often enough, it will eventually break down due to compatibility problems. To minimize these expenses, keep up with the latest version upgrades. Not only from a data perspective but also from a revenue viewpoint, staying on top of upgrades is the best method to safeguard your organization over time.
2) How much time it should take to upgrade
Before you hire a Magento 2 agency to upgrade your platform, be sure you know how long the procedure will take. Most agencies charge by the hour, so if you aren't careful, you could end up paying considerably more than necessary for hours that your developer will waste.
We had been informed by one of our customers that they had been quoted 700 hours for an upgrade from Magento 2.3 to 2.4 before. The same upgrade took us 40 hours (one week) in total (including setup time).
There are a few predatory organizations that will happily take your money without doing any work since an upgrade does not take as long as they claim it will. If you don't conduct extensive research and commit to the upgrade blindly, you'll be out of pocket and paying for the time that wasn't spent on your project. That way, you benefit from a time and cost-efficient migration process.
It's also why you should thoroughly examine agencies and make sure they know what they're doing. Partnering with an Adobe Solution Partner (like Nethues) shows that the firm has adequate technical competence and experience. Nonetheless, you may still verify them because the badge does not guarantee project success.
3) Check new features and functionalities
Always check the release notes to see whether anything has been added that you should take advantage of when upgrading your Magento 2 platform.
It might be a new feature that improves the efficiency of your operations and procedures, or a solution to an issue you've been dealing with.
Adobe is always coming up with new tools to help you increase revenue. In the most recent version (v2.4.4), Adobe added Adobe Commerce Page Builder to the open-source edition.
This plugin allows administrators to construct web pages without writing a single line of code. Magento 2 merchants may only utilize this new functionality if they upgrade to v2.4.3.
Knowing what's ahead is essential to good corporate decision-making. You should be talking with your development partner about what new features are included and how you can utilize them. This means you may strategically plan for new features and their integration into your company operations. You can also give your staff an overview of how they will operate to minimize any business interruption.
Working with an Adobe Solution Partner also offers more advantages, including getting early access to new versions and being alerted of their release date several weeks ahead of time. This will enable you to better prepare for each release.
4) Stay just one release behind
It's not a good idea to jump straight to the very recent version of Magento 2. It may seem counterintuitive, but we assure you that this is the case.
We recommend that you stay only one version behind the most recent upgrade. Unless there's a brand-new function in the most recent edition that you need. For example at the time of writing this guide, the most recent version of Magento 2 is v2.4.4. We advise all of our clients to stay on v2.4.3 or earlier versions due to the fact that they include all of the most recent security patches and assure stability at the same time.
Bugs are common with new versions, so we recommend this to all of our customers. They might destabilize the platform and create a number of problems that may be avoided in some cases. We don't believe it's a risk worth taking for companies who don't need the newest enhancements included in the most recent upgrade.
Of course, this doesn't mean you should ignore numerous upgrades. That would just cause future issues. Typically, every security upgrade includes a number of bug fixes to handle the concerns mentioned in the initial release. So we'll take our clients' websites to v2.4.4 when Magento releases v2.4.4-p1.
5) Implementing a proven upgrade strategy
Having a plan in place with your partner or agency for upgrading Magento 2 is critical to the success of any upgrade. Without one, upgrades can be problematic and lead you to unprofessional consequences with new versions when they are announced. This should not happen.
Adobe typically releases updates every 12 weeks (four per year). Ensuring that you have an upgrade strategy in place, means that these upgrades are implemented seamlessly and efficiently saving your business both time and money.
Adobe releases updates every 12 weeks (four per year). Making sure you have an upgrade strategy in place ensures that these updates are carried out smoothly and quickly, saving your organization time and money.
If you don't keep up with the latest upgrades, you'll fall behind quickly. It's stressful and time-consuming to upgrade at that point. Thus, stay on top of things to ensure that upgrades can be deployed efficiently and effectively.
The ultimate checklist for a safe Magento upgrade
The advantages of upgrading to Magento 2 can never be overstated. However, it will be wise to consider the following factors before proceeding with the process:
1) Create an upgrade plan for Magento 2
Creating a Magento upgrade plan broadly involves the following steps:
Review all your webshop extensions
Build and prepare Magento 2 store for the upgrade
Go through a test run
Start the process
Make changes to migrated data, if required
Update incremental data
Go live
2) Analyze the functionality required
You should consider whether all of the features and custom extensions you included in your Magento 1 site were actually used. If not, you may remove any non-essential features to save money and time during the upgrade process.
3) Updating the code and extensions
After you've decided on the extensions you want to upgrade, make sure they're compatible. (You may check their compatibility information on the Magento marketplace) Because of various architecture, all add-ons may not be compatible. You'll need a code migration tool to implement custom code. It's also possible that you'll need to acquire new or updated components for your website.
4) Data Migration in Magento 2
While Magento 2's database structure requires data in a specific format to match Magento 1's schema, the good news is that it includes a data migration tool. A command-line interface that does the following:-
Run data verification tests
Creates logs
Tracks data transfer process
Verifies consistency between Magento 1 and 2 database structures
This tool operates in three modes:-
Settings: To migrate configuration settings
Data: To migrate main data in the database
Delta: To transfer incremental data updates
Data that needs to be migrated manually:-
Storefront design
Access control lists (ACLs)
Admin user accounts
Media
Post Upgrade
The following activities must be completed after the upgrade and testing of the new Magento 2 website.
Ensure that Magento 1 is in maintenance mode and admin functions are disabled.
Initiate Magento 2 cron jobs
Delete Magento 2 cache types
Reindex Magento 2 indexers
To direct traffic to Magento 2 production hardware, update DNS, load balancers, and other tools.
5) Review Webshop's SEO Equity
It's critical that you go through the entire SEO checklist so that the transfer doesn't have an impact on your site's visibility. The following are some of the things to look for:
Pre Launch:-
Make sure both versions of the site are registered in Google Search Console
Prepare robots.txt
Configure URL Parameters
Crawl old sites and monitor log files
Identify top-performing pages
Update canonical tags
Configure analytics
Prepare campaign URLs
Generate new XML sitemap
Post Launch:-
Complete site audit
Validate third-party extensions
Monitor how new URLs are ranking
Validate site redirects
Validate robots.txt configuration
Monitor log files
6) Importing Media
The transfer of data files might be automated, but transferring media files is a manual process. The following are several other file types that must be manually migrated:
Storefront design
Admin User Account
Access Control lists
It's essential to find a reliable partner that can guarantee a seamless migration.
When is the right time to upgrade to Magento 2?
You must upgrade and apply security updates as soon as they are available. It's a necessary condition for running your Magento store securely. Otherwise, hackers will be able to easily attack your website.
However, it's important to note that these technologies are changing at a rapid pace. And with each new version of Magento, maintaining the work of older versions for your developers becomes increasingly difficult.
Furthermore, if you have an ancient or out-of-date version of Magento, you may not be able to locate extensions for it on the market.
The longer you put off upgrading your store, the more difficult it will be. Upgrading from version 2.3 to 2.4 is considerably easier than moving from 2.0 to 2.3.
While applying a patch is a fast and simple solution to secure your store, you are also extending the time it takes to complete a full upgrade. Consider patches to be temporary stopgaps designed to help you while you make larger upgrade plans and preparations.
While a patch will make your site more secure, skipping full upgrades may result in you missing out on new functionality or improvements that are crucial to your company. For instance, PHP 7.4 is now the most recent version of Magento 2.4, which makes it significantly faster than previous PHP versions. So, if you upgrade your store and its PHP, you'll notice a speed boost (Remember, Google likes fast websites).
Why are release upgrades hard to install?
As previously said, Magento release upgrades introduce a slew of new features. Some of those changes might not be compatible with your theme, extensions, or modifications. Those changes can lead to significant complications in your business. For example, certain capabilities may fail.
If you install a new version of Magento, all your third-party extensions will also need to be updated. This is due to the fact that extensions may very well be incompatible with your new version of Magento.
Upgrades require a comprehensive check of your store's functionality with each release. Otherwise, you'll come across new bugs in production (or, much worse, your clients will).
What to do if upgrading is not a choice?
Most of the time, upgrading your Magento store is a time-consuming process. The upgrade technically can be done, but it will require a lot of development time. Only security patches may be applied in this situation. Magento has an Applying Patches Guide and you can download patches in the Magento Security Center.
Final Words
Regularly keeping your Magento 2 store up to date will help you get the most out of the platform and make as much money as possible. Having a clear upgrade plan is critical for a variety of reasons.
If you don't have one, or if you've ever found that your current upgrade approach isn't as effective as it should be, connect with us.
We've streamlined this for numerous firms, and we continue to work with them on an ongoing basis to ensure that their Magento 2 systems are kept up to date.
We are excited to see you on the other side.
Happy upgrading.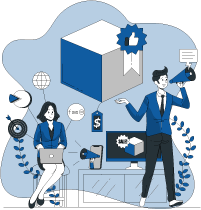 Upgrade to Magento 2 and Stay Ahead of the Curve
250

+

Skilled Professionals