2020 is here and we are excited to make it count!
If someone was to ask what will happen in 2020, the answer would rather be " a blank yet eager" face. Why? Because technology knows no bounds and we never know what new might just pop up. This is how it goes and this is how 2019 was!
Bidding a farewell to a year that gave us dollops of happiness, knowledge, opportunities and growth, we have countless moments to imprint on our minds. Sending across lots of thank you notes to 2019, 2020 has several interesting things for you to lead and read.
Extending the ritual, every year, most of the discussions about next year's trends have begun to feel a bit repetitive: AI, AR/VR, IoT, Chatbots, NLP, Voice Search, Cloud Computing and a lot more. It always seems like the same chairs being re-arranged around the same old room. Well, 2020 will mark an onset to a new class of technologies, all set to graduate the sidelines to the center stage. Further, we will ensure 2020's discussions are different, at least the one that flows from our end.
Without further ado, here is a quick recap to pat our backs:
Our Achievements and Recognition
Ever since Nethues came into being, it has always strived for more.. more knowledge, more talent, more dedication and more harmony. Every passing year is a portrayal of these, where everyone works as a team to achieve considerable results.
We are committed to being the best at what we do by providing stellar service to clients, rewarding work, adopting change and being a vital part of the tech community.
Some of our noted achievements of 2019 are:
A new and fresh website with a special focus on eCommerce and user experience.
Laravel and Magento Certified Developers became a part of the development team
Recognized as one of the Top Full Stack Developer and Development Companies by ITFirms
Got featured on Clutch
Recognized as Top eCommerce Developers by TopDevelopers.co
Acknowledged as a Leading Magento Developer by TopDevelopers.co
Named a Top Developer by Clutch
Became a PrestaShop Partner Agency
Announced as Top Hybrid App Developers by TopDevelopers.co
Some Applauding Client Testimonials
No matter how hard you work, you stand nowhere if your work isn't recognized by your customers. You need to set your foot in the industry and leave a print that lures all, especially the market you are serving. Luckily, we did that well; all thanks to our leaders who constantly say: " Always put customer's success before yours."
Take it from our customers:
"This company is hard working, fast, and has great communication skills. I highly recommend them. Their technical skills are awesome and they provide their clients with regular updates. Thanks again for a job well done! – Nick Heurter"
"Having witnessed the increasing dependency on mobile and web applications, it's of utter importance to find an entity that understands this well. By understanding our requirements and delievering us solutions that rendered growth, Nethues proved to be one such entity. – Steven Taylor"
"My company has used a number of offshore companies in India, with varying success, but finding Nethues was a stroke of luck because they are better than the rest. This company is friendly, helpful and delivers close to deadline. They have excellent support staff and are available 24/7 on Skype and via email. Amongst the excellent work they have done is a complete website adapted from Photoshop designs with an excellent backend dashboard, integration of payment systems and complex PHP work. Highly recommended. – Adrian Duncan"
An Insight Into the Top Events of 2019
We follow a culture where work and fun walk in perfect harmony. The best part: each activity that happens at Nethues helps us grow both as individuals and team. Be it an informative meet, a birthday party or a festival celebration, we are here together to evolve and transform.
Lets' have a look at all the important events, crucial decisions and discourses that are highly important for us to remember:
Republic Day Celebration – Paying Tribute to the Nation
Women's Day Celebration – Loud Cheers to Women Power!
Hosted Magento U Magento 2 Development Essentials Training
Festival of Colours – Spreading Happiness Throughout
Day Out – Building Up Team Bond with Some Twist
Month-End Birthday Celebrations – Tasty Cakes and Fun-Filled Games
World Cup Semi-Finale – Cheering For India
Festival of Lights – Scrumptious Lunch to Brighten Every Face
Christmas Celebration – Who's my Secret Santa?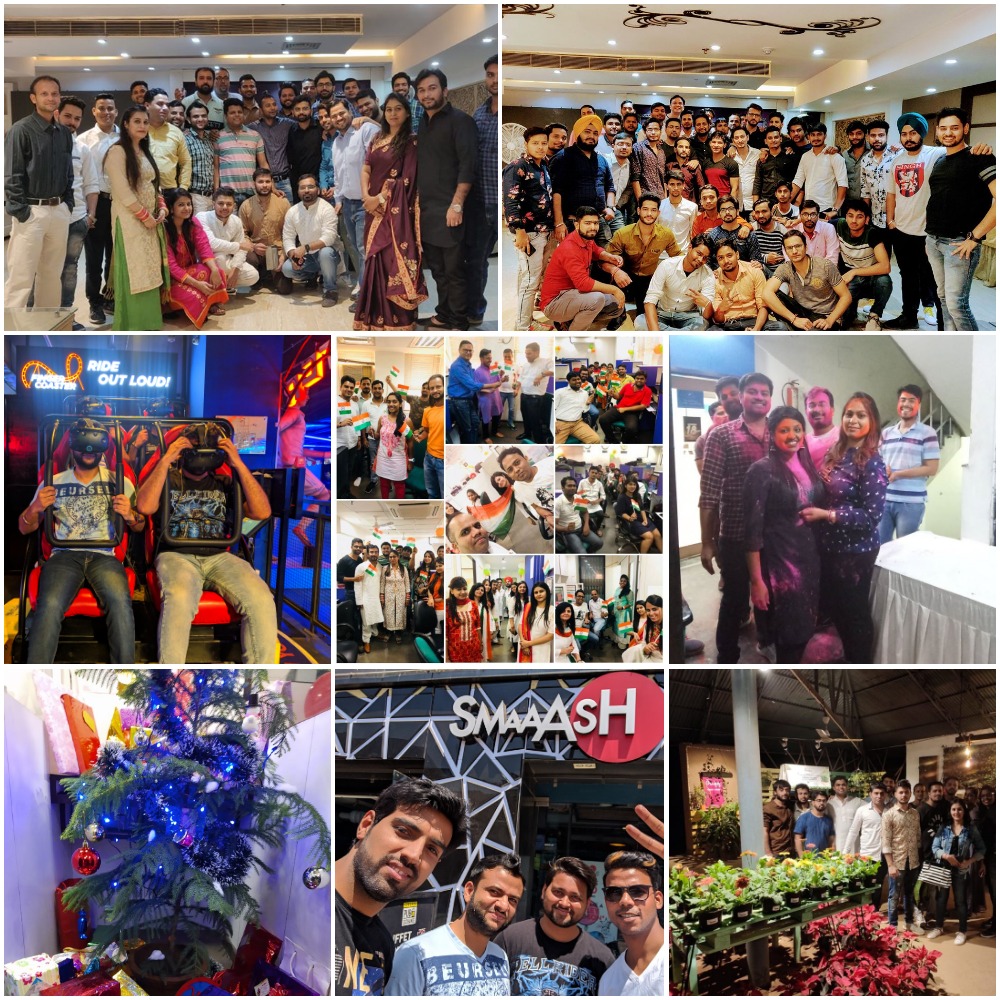 In Closing
Dear 2019, a big thank you for everything. Dear 2020, bring it on!
We wish each one of you 12 months of success, 52 weeks of happiness, and 366 days of fun – don't forget it's a leap year!