We at Nethues technologies believe in progressing along with our employees, clients, and stakeholders. We always encourage our employees to move ahead in their area of expertise and grow by help them in improving their skills. Our employees also make constant efforts to be acquainted with latest technologies by proper training and certifications. Our growing team of certified developers is indicative of our progress as an advanced e-commerce solutions provider.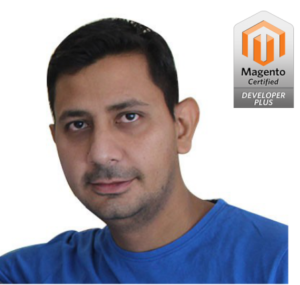 We have recently had another addition to our team of Magento certified developers. "Mr. Sunil Verma", one of our team leaders have successfully been accredited with Magento Developer Plus certification. We are pleased to have him as a part of our Nethues family and are glad at his success.
This certification has not only strengthened his professional standing in the development arena but also displays his exceptional knowledge and deep understanding of the Magento platform.
He has delivered a number of custom web solutions and is fully equipped to deliver personalised solutions meeting the client's requirement and business objective. We are proud to have him as a part of our organization and wish him success and outstanding achievements in his future endeavours.
Click here to see Sunil Verma's certification.