A content management system (CMS) is vital for providing a top-notch web experience to your visitors. For any business, it is crucial to retain its visitor. Drupal is a CMS that is very popular among enterprises.
Drupal CMS has helped many big enterprises create a robust online presence. The coronavirus pandemic caused many changes in how businesses operate, and Drupal was one of the platforms that saw fast-tracked development.
Drupal is an open-source content management system (CMS) platform with over one million users worldwide.
The Drupal CMS is a free, robust, flexible, functional, and secure platform allowing organizations to build websites. They can do this by selecting and adding modules that fit their needs.
This article discusses Drupal web development, one of the most powerful CMS solutions available on the market as of 2022.
5 reasons why Drupal remains a top CMS despite competition
Thanks to its large community of drupal developers, Drupal is a powerful CMS with a track record of rapid innovation. This community support is why many businesses consider Drupal their number one CMS platform. Here are 5 reasons why Drupal remains a top pick for CMS development services.
1. Drupal Improves With Experience
Drupal is a powerful tool that has become more useful with experience. As enterprises continue to use Drupal, they find it easier and quicker for their projects because of its versatility in terms of size and flexibility, making this CMS platform one most popular options among developers today. Clearly, Drupal has become the clear leader for more complex projects as an enterprise-level CMS platform.
A recent initiative started in 2020 aims to improve the user experience for beginners, especially those unfamiliar with Drupal's interface and functionality of features.
2. Drupal Is a Promising Web Experience Management System
Drupal has been one of the most promising CMS for years because it makes it easy to integrate third-party tools.
Drupal CMS is a flexible platform that performs more like a web experience management system. Drupal lets you use your favorite CRM software, like Salesforce, or inbound marketing platforms on your website. This is different from other websites with proprietary automation and analytics tools. Organizations that want to integrate their preferred third-party technology seamlessly with their website should use Drupal.
3. Customer Centric and Personalized User Experiences
Drupal 9 is the perfect solution for organizations looking to offer personalized and interactive user experiences. The framework offers all of these tools, allowing you to create customer-centric experiences. Your website must match visitors' needs and guide them through their purchase decision as quickly as possible.
How Drupal Leads in User Experience
Drupal is an excellent choice for content management systems because it has many built-in and contributed modules that make it more powerful than other options. This makes it the best choice among content management systems for these reasons:
You can customize the web browsing experience for your users using different Drupal modules, such as the Personalization Module, Browsing History Recommender, Commerce Recommender, and Context-Menu Block.
Enhanced caching capabilities
Drupal has better caching abilities than other websites. It means that your website will be more efficient and load faster.
There are many different ways to create excellent user experiences on Drupal. Sometimes you need flexibility, like landing pages customized for marketing campaigns. Other times you need uniform control so that the website's look is consistent. One popular way to have consistency and flexibility is using the Paragraphs module.
Flexible layouts for marketing campaigns
Now, Drupal core tools make it easy to create flexible landing pages for marketing campaigns. The Layout Builder module lets you easily create different layouts and reuse content across campaigns. Another popular option is the Gutenberg module, which offers the same flexibility as the editor in WordPress.
The block system lets you rearrange text and images on your website by dragging and dropping blocks. This way, you can create a design that looks the same on every page and reuse blocks of content on different pages.
The WYSIWYG editor is a feature that allows users to see how the text and images they enter into the text editor will look before they publish it.
Drupal's responsive web design automatically makes your website look good on different screens, like smartphones, tablets, and desktops.
You can use one of Drupal's social media integration modules to connect your website's online customers to your Twitter, Facebook and other social media feeds.
Multilingual functionality
Multilingual functionality is a feature that lets you translate your website into different languages depending on the user's geographical location.
This module allows you to type directly into a text editor on your website to add and upload content more quickly.
4. Drupal Is Highly Extensible via APIs
Drupal is highly extensible because it provides access to robust APIs. This allows it to integrate with all steps of the customer journey. Drupal 8 and 9 have made several APIs available that allow for this level of integration.
The RESTful Web Services API supports connecting to a Drupal site from a native mobile iOS/Android app and integrating with web services.
The JSON API module allows you to serialize data and communicate with other applications using JSON.
Render API makes your web page faster and easier to cache.
Translation API can change the language on your website depending on where your viewer lives.
5. Drupal Integrates Well With Marketing Tools
Drupal is great for eCommerce. You can access several marketing tools if you build your website with Drupal. Many marketing platforms work well with Drupal. These include Mailchimp, HubSpot, Salesforce, Google Analytics, Crazy Egg, and Social Auth Google.
---
You May Find This Interesting : 10 Reasons: Why You Should Upgrade From Drupal 7 To Drupal 9?
---
Final Thoughts
Drupal is the perfect platform for building websites. Its flexibility in customization, scalability and robust personalization tools make it ahead of other platforms. Hire a drupal developer, as its vast community ensures you can rely on this CMS to get your project done right.
However, you can hire developers from a Drupal development company if you don't have Drupal developers on your in-house team.
Nethues Drupal developers are experts in Drupal development, consultation, upgrading, and maintenance. Contact with our professionals to discuss your website development requirements today.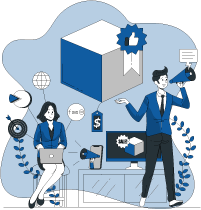 Choose Our Dedicated Development Company for Your Success
250

+

Skilled Professionals