It's essentially a no-brainer:
Whether you're just starting an eCommerce business or already an established one, the higher your conversion rate, the better your business will be.
On the surface of things, an increased conversion rate simply means more revenue; the more products you sell, the more money you make. Goes without saying!
The key, here, is that conversion rate refers to the ratio of paid customers you generate to the number of potential customers you generate over the same period.
It can also mean prompting people, who visit your store, to take actions that might lead to future sales. To be specific, actions might include signing up for a newsletter, creating a wishlist or simply starting a free trial. But usually, conversion reflects the percentage of visitors to your site who actually make a purchase. The formula is:
# of purchases (or goals) ÷ site visits = conversion rate
Well, this article highlights some of the best approaches for optimizing your eCommerce website, in turn making it more likely your visitors will end up converting into paying customers.
But, before we dive into a discussion of these strategies and tips, we need to understand just why an individual might decide to leave your site in the first place.
Where Do I Start?
First of all, it's important to figure out the reasons behind falling conversions or no conversions.
Yes, the reasons behind an individual not purchasing at a given point of time might be infinite. However, as per our experience and analysis, we have narrowed down these:
Browser Abandoners: Those who just check out your site and leave without adding anything to the cart or makingany purchase. This could be due to:
Not finding the desired product
Bad navigation or site performance
Poor product pricing
Cart Abandoners: Those who check out your site, add product(s)and leave without making a  This could be due to: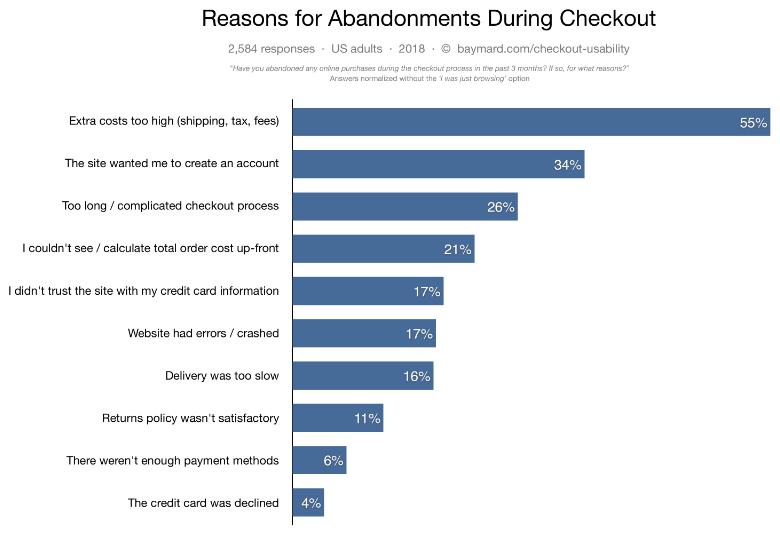 That said, you need to make sure that every single aspect of your site is optimized in a way that nudges even the most non-committal visitor toward converting.
First things first,
What Do I Do Next?
Merchants have started realizing the fact that getting visitors to your online store is probably the first step in the conversion process, which used to be increasing traffic volume some time back.
Ideally, you'd want to optimize your site before you invest in strategies for driving more traffic. Thus, it's important to pay attention to:
Website Design
Server Performance
Product Descriptions
Checkout Experience
Unfortunately some merchants make the mistake of focusing exclusively on promotions. Yes, that's also necessary but it comes later. You need to evaluate and optimize the entire shopping experience before implementing any promotions. Everything from site design to server performance to product descriptions to checkout have a considerable impact on conversion rates. So, don't miss a chance to gain your customers' trust or interest and don't give them a chance to lose that.
Which Strategies Should I Adopt?
Here they follow:
HELP YOUR CUSTOMERS FIND WHAT THEY WANT
Most of the online store owners consider price as one of the biggest reasons behind low conversion rates. Surprisingly it isn't. Price is probably one of the reasons and but not the only reason. Rather, not finding the desired product is.
Majority of shoppers come to your site for something specific and not being able to find that turns them down. No, we aren't asking you to increase your stocks but implement search so that they can directly jump to their desired product/service rather than browsing the whole category.
Search
Improving your product search capabilities is one of the best ways to increase your conversion rate. Your search bar should be easily visible and appear consistently throughout your site. Further, make room for auto-complete phrases to minimize typing and maximise to-the-point results.
Faceted Search
Next, use the faceted search option. This help customers in narrowing their searches according to various product attribute like category, price, size, brand or color. Configure your search tool to include common misspellings and synonymous phrases to increase the relevancy of results.
MERCHANDISE YOUR PRODUCTS
Once your customer finds a product and clicks on it to learn more, make sure you're doing all you can to merchandise and sell that product.
This means using quality images, detailed views, tailored product descriptions and/or product videos. All these not only give clarity and satisfaction but help the customer in making a buying decision.
Further, convince customers to buy through ratings and reviews. Customers or buyers heavily rely on reviews provided by other customers since it gives them a proof of authenticity and solves their queries regarding sizes or fit. So make sure to include these.
Another way to showcase your products is to add them to different product categories. The goal is to help customers find the same product through different navigational routes. Likewise, use up-sell and cross-sell techniques to expose customers to a greater number of products in your store.
STREAMLINE YOUR CHECKOUT PROCESS
You might follow all the tips and tricks for conversion, but if your checkout process isn't streamlined, it will be waste.
According to Baymard, 35% of US online shoppers have abandoned their order during checkout because the site requested they create an account.
Ensure your checkout process doesn't have complex elements – ones that swipe away customers rather than engaging them. Aim to cut down your checkout process by either making it simple or asking only the required customer info. You can also allow new customers to checkout as guests (rather than requiring them to register a new account).
BE MOBILE FRIENDLY
Without a doubt, the majority of the population shop through mobile phones or tablets. According to comScore, consumers spend 66 percent of the retail time on cell phones. So it's important to optimize your site for mobile.
From cutting down heavy load images to easy navigation without a lot of pinching and scrolling to screen-friendly content, each factor needs to be kept in mind. Serve your potentials with the best mobile-optimized version of your site for enhanced conversion rates.
Another solution is to create a separate mobile app for your store. A fully optimized mobile app will offer quick page loads, help customers locate products easily, make faster payments and easy checkout.
Tip: you can offer some discounts or offers to make customers download your app.
OFFER MULTIPLE PAYMENT AND DELIVERY OPTIONS
The only time you'd want to add steps to the checkout process is when providing options your customers will appreciate.
Credit cards are no longer the guaranteed mode of payment by today's standards. That said, you'll want to look into which payment methods your target audience typically prefers, and be absolutely certain that you're able to cater to these needs.
You'll also want to provide a number of delivery/shipping options to your customers. Some customers might prefer a fast shipping or one-day delivery while some might be okay with longer delivery periods. Your job is to provide as per the individual needs.
Noted and Finished?
No, Increasing Conversion Rates Isn't A One-Time Event
Rather it should be viewed as an ongoing process. You need to optimize your site and keep a check on the crucial factors time-to-time.
The conversion tips outlined in the article can give you a start and tell you the areas that need focus. However, it's your duty to optimize your site and think of ways that maximize the potential while turning visitors into a buyers.
Don't forget to keep a track!
Wrapping Up
The success of your eCommerce store is measured by your sales or simply how many people actually buy from you. A store with more of visitors and less of buyers is nothing but one amongst the crowd of infinite stores across the world wide web. So aim for the other way round i.e. less of visitors and more of buyers. In other words, aim for higher conversions. Ensure to adopt tips and tricks that help you boast a store loved and known by all.