Choosing the best eCommerce platform for your business lets you make a successful digital store with customer-oriented features. Shopify and BigCommerce are two popular platforms for creating advanced online stores. Both offer standard ecommerce features like faster checkout, mobile-ready stores, high-speed performance, and more.
However, choosing the best between the two depends largely on your business requirements and what you want to do with your online store. Whether you wish to deal in a few products or sell a large variety of items also influences the decisions for the right eCommerce platform.
This article discussed BigCommerce vs. Shopify, so you can choose the best one to launch an online business.
What is BigCommerce?
BigCommerce is a SAAS-based platform for launching eCommerce businesses. It lets you create and manage online stores, handle payments & other aspects of ecommerce business. It was launched in 2009 & today; it powers 47K+ stores across the globe with many mid-size & fortune 1000 companies. 
Brands using BigCommerce:
Sony

Skullcandy

Black diamond

Ben & Jerrys

Natori
---
You May Find This Interesting : Magento vs Shopify: Which One Best Suits Your Business?
---
What is Shopify?
Shopify is an ecommerce platform that lets you create and launch successful online stores. It comes with specific plans to suit different ranges of industries and budgets. As of 2023, over 4.4 Million digital stores trust Shopify for their business. 
Brands using Shopify:
RedBull

Heinz

Sephora

Gymshark

Kylie Cosmetics
BigCommerce vs Shopify – Detailed Comparison

BigCommerce vs Shopify – Which one comes with Sales Limit?
The term sales limit here refers to the annual sales amount, post which you are asked to upgrade to the next sales plan. For example, in BigCommerce, each eCommerce plan has a sales limit, which requires you to upgrade to the next program. 
The sales limit of different BigCommerce store plans are:
BigCommerce Standard – $50,000

BigCommerce Plus – $180,000

BigCommerce Pro – $400,000

BigCommerce Enterprise – Negotiable limit
In contrast, Shopify store plans do not suffer from any sales limit. However, each plan upgrade offers you more features. So, it becomes crucial to upgrade to higher plans with a growing business. 
Shopify vs BigCommerce – Availability of Themes
Both the ecommerce platforms have free and paid themes available for use. BigCommerce provides your business with 12 free themes and 130 premium themes. In contrast, Shopify has 8 free themes and 64 paid themes. 
Although BigCommerce has a more significant number of themes, Shopify themes are more varied. As each theme varies significantly than the other, the right theme helps to  build a brand-oriented store in less time. 
Dedicated Shopify developers do not have to invest much time in customizing the online store for brand-values integration with the right business theme. On the other hand, BigCommerce themes are quite similar, making them outdated for varied business purposes. 
Shopify vs BigCommerce – Third-Party Integrations
Both eCommerce platforms offer a range of third-party extensions in the form of app stores. These apps are simple to install & upgrade the eCommerce stores with new and upgraded features. You can use these app stores to install new features into the ecommerce store.
For example, installing an account-based app will enhance various accounting features in the ecommerce store. Similarly, you can install the live chat app into your eCommerce store when boosting customer services. 
The Shopify store comes with over 6000 Shopify apps. In contrast, the BigCommerce app store has just 850 apps in it. 
BigCommerce vs Shopify – Payment Gateways 
Payment gateways like Stripe, PayPal, etc., are necessary to run successful online stores. Both eCommerce platforms offer integration with popular payment gateways, which pave the way for building conversions from online shoppers. While BigCommerce offers integration with 65 Payment Gateways, Shopify provides integration with over 100 of them. It also comes with a popular payment gateway called Shopify Payments. 
Shopify beats BigCommerce in the number of Payment Gateways. However, Shopify charges business per transaction when you use a third-party payment gateway solution. The charges are 2% for basic, 1% for Regular, and 0.5% for advanced plans. In contrast, BigCommerce does not limit your business with any such transaction fees.
BigCommerce vs Shopify – Which is the Better Option for Launching Enterprise-Level Stores? 
Both platforms have suitable tools for developing and launching an enterprise-level ecommerce site. However, the difference lies in the pricing strategy. Shopify has standard charges, with a minimum being $2,000 per month.
In contrast, launching the store over BigCommerce Enterprise means the quotes vary between $500 and $15,000 per month. While Bigcommerce fails to offer affordable rates, the platform comes with out-of-the-box enterprise-oriented features like handling hundreds of API calls per second. In contrast, Shopify could manage just 10 API calls per second. 
Thus BigCommerce offers higher performance for enterprise-level stores. Additionally, the platform also promises higher omnichannel growth for any business. The right solution depends mainly upon specific business needs and the expected regular traffic over the online store. By weighing the possible site traffic and future business goals, you can choose the ideal option to launch an enterprise store.
When Should You Choose BigCommerce?
Both BigCommerce and Shopify are excellent options. However, one weighs over the other depending on the business requirements. At Nethues, we suggest you go with a specific option after weighing your business needs. Choose BigCommerce under the following scenario:
You need simple customization in your store

Upgrading to costlier plans is not an issue for you

Standard ecommerce features work well for your business ambitions.
When Should You Choose Shopify?
Shopify plans are suitable for a range of business industries. A Shopify development company can help you with extensive customization to create a store that speaks for your brand and sets you apart. 
We suggest you choose Shopify under the following:
You want to build a highly customized store

Looking for advanced ecommerce development feature in your online store

Want to create a store that has a friendly interface design and drives user experience

For dropshipping business

Looking for smooth inventory management and tax calculation capabilities into your store
Must Read: 10+ Reasons Why Shopify Remains the Best eCommerce Platform
Choose Wisely
You can choose either of the two based on how you plan to launch your store. Both have everything necessary for building up-to-date eCommerce stores. Whatever you choose, it's essential to create a store that is unique to your business brand because copied store designs fail to build credibility among shoppers.
At Nethues, you can hire a dedicated developer to create custom UI designs that are user-friendly and create an immersive user experience for your business.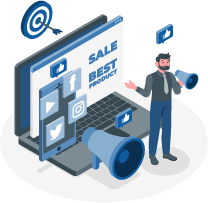 Hire a Shopify Development Company for Unparalleled Success!
250

+

Skilled Professionals
Frequently Asked Questions
Q1. Which is better: Shopify or BigCommerce?
Both Shopify & BigCommerce work well for various kinds of digital stores. However, Shopify is the winner in template designs, dropshipping business, smooth inventory management, international tax calculation, and more. Shopify's app store also provides you access to thousands of ready-made features. Store owners find it easier to integrate new features into their ecommerce sites.
Q2. How is Shopify different from BigCommerce?
Shopify app stores offer a more significant number of apps to choose from. On the downside, Shopify charges transaction fees when you do not use Shopify payments as your Payment Gateway.
Q3. Is BigCommerce a competitor of Shopify?
Yes. BigCommerce gives decent competition to the Shopify platform. However, Shopify ranks among the top five eCommerce platforms worldwide, and BigCommerce is far behind in this race.