Magento is an open-source e-commerce platform that a lot of people use. However, if your business is on Magento, you know it can be challenging to manage your e-store. You usually need to hire Magento developers to help make things simpler.
Finding the right Magento developer can be difficult. You need to consider numerous things before deciding, like how familiar they are with the Magento platform and what kind of experience they have.
This post will cover all the topics you need to know about finding and working with a Magento developer. Let us dig in.
Who is a Magento developer?
A developer is someone who can help you create an ecommerce site using the Magento platform. Magento is a popular open-source platform known for its flexibility and scalability. This means that your ecommerce site can grow with your business. You can also find control over the site's content, update inventory, and more using Magento.
Why Hire a Magento Developer?
Before hiring a Magento developer, you must understand why you need one. Magento is a complex tool that requires in-depth technical knowledge. If you want to run a full-fledged online business but don't know how to use Magento, you will need a certified professional to help you.
Here are the benefits of Hiring a Certified Magento Developer:
Time-Saving
You will save time if you hire a professional web developer to work on your website. This is because they are familiar with coding and will be able to do most of the work on their own. You can then focus on other tasks, like branding, marketing, and sales.
Technical Assistance
If you want to be successful with Magento, you need to have a good understanding of the technical aspects of the platform. A good Magento developer will help you learn more about the platform and how to use it effectively. They can also help design your website, customize it, and ensure you are up-to-date on all future updates.
Modification
Making your e-commerce store stand out can be difficult. You need to be creative and unique with your website. When you hire a developer, they can help create a site that looks professional and unique. You can communicate with your developer whenever you desire to modify your site. He can give your store a fresh and new look.
Better Performance
A professional Magento developer can help your eCommerce store run faster and smoother. They can also help with the back end and ensure your website looks good. They can also make sure your store is secure.
Analyzing your requirements before hiring a Magento developer
Before hiring someone to work on your Magento store, you need to consider what you need. Make a list of what you want, and then ask yourself these questions:
Do I Need a Front-end, Back-end, or Full-stack Developer?
A front-end developer is responsible for the look of your website. They ensure it looks good and that people can easily navigate it. To do this, they must be familiar with programming languages like PHP, HTML, JS, CSS, and APIs. They also need to understand Magento CMS.
You need a back-end developer if you want to develop the server-side logic, maintain a central database, or create an app for your store. A back-end developer must have strong technical skills and be detail-oriented to produce the desired results.
A full-stack developer is good at doing both front-end and back-end Magento development tasks. Most businesses with little technical knowledge want a developer who can do all the work for them, which is why they call them full-stack developers. A full-stack developer can work on all parts of the website.
Looking for Part-time or Dedicated Magento developers?
Deciding whether you need a full-time or part-time developer will help set up your budget and design for the project. Choosing how long you want the developer to work or whether you want a permanent or temporary hire.
Our Suggestion: We recommend hiring a dedicated Magento developer. Why? You will get full Magento support, undivided focus, and better results with an experienced Magento developer in the field who is focused on your project all day.
Do you need one developer or an Agency?
If you have a new, small store, one developer can handle it. But if you have a big, busy eCommerce store, you will need more than one Magento expert.
Many businesses with multiple websites and an extensive database hire a team of certified professionals with in-depth knowledge and experience. This is because hiring a Magento development agency is an advanced and progressive choice.
What matters more to you: Cost or Quality?
Many companies hire cheap Magento developers but are often disappointed with the work quality. The truth is these developers often fail to deliver extraordinary services.
So, you need to decide if you want to save your money and compromise on work quality or if you want to invest in talented, experienced industry developers who can achieve the desired results.
Steps to Find the Perfect Magento Developer
Now that you know who Magento developer is and what they do. You need to take certain steps to make sure you find and hire the best developer for your store.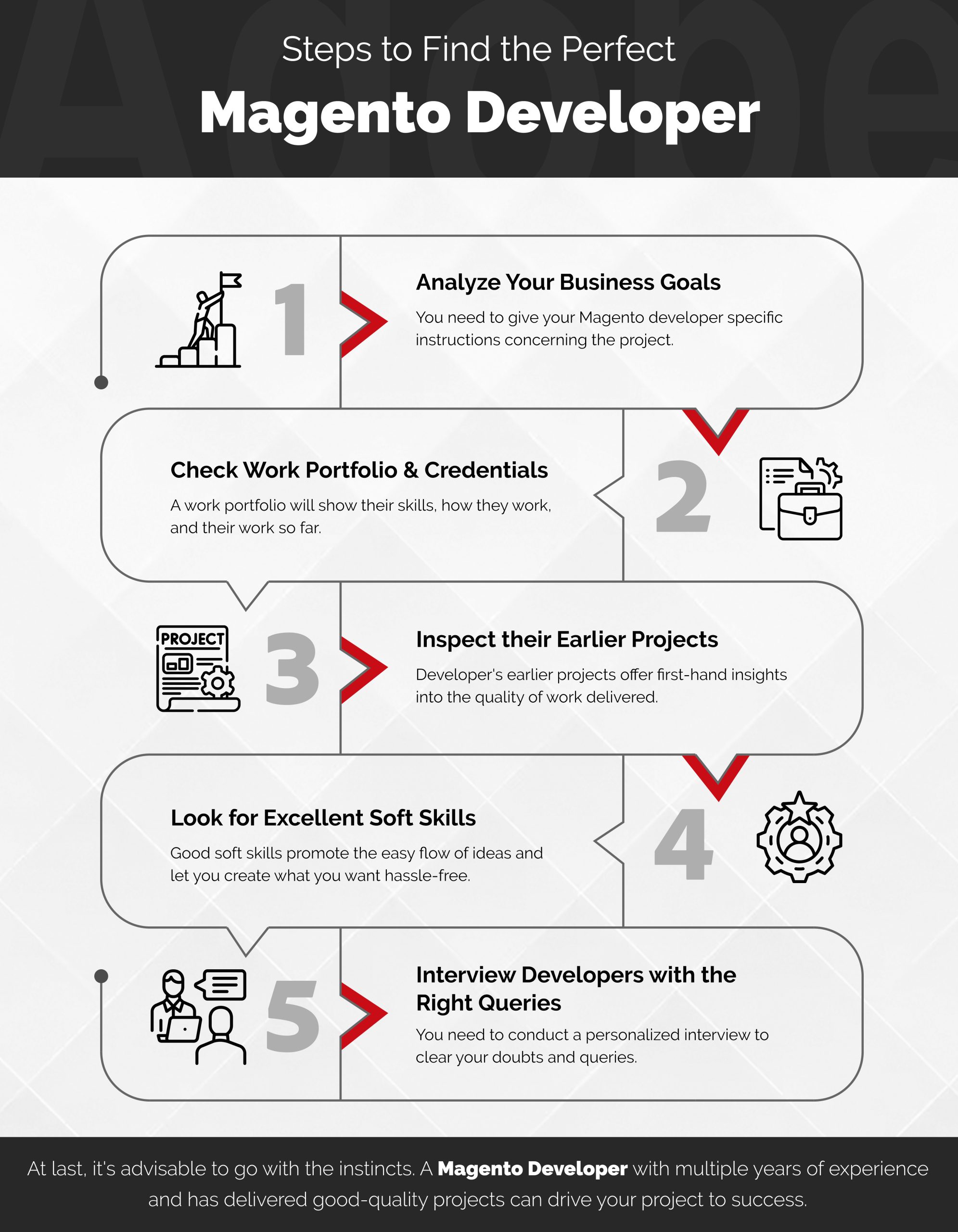 Step 1: Analyze Your Business Goals
Before you search for the perfect Magento developer, fixing your business goals is vital. You must clearly answer what kind of website you are looking for. Analyze and find answers to the following questions:
Do you want to build a Magento PWA, a web app, or a simple site?

Does your online store need a flashy or classic outlook? 

How many users must be able to shop from the site effortlessly simultaneously?

What additional features do you want to integrate into the online store?

Do you need any additional payment gateways?
You need to give your Magento developer specific instructions concerning the project. If you don't, they might not do what you want, and you will have to keep asking them to change things. Be sure the developer is aligned with your requirements and due dates before hiring them. At Nethues, we offer in-depth free consultations to help you fix your business goals.
Step 2: Check Work Portfolio & Credentials
Looking at your Magento developer's portfolio and certification is very important. This will help you ensure they are the right fit for your project. A work portfolio will show their skills, how they work, and their work so far. The professional portfolio of your developer will be the best evidence for the following:
The number of projects they have completed.

Their experience with Magento 2 development.

Their proficiency in different business industries.

The certifications they have completed.
Step 3: Inspect their Earlier Projects
Go through the developer's earlier projects and gain first-hand insights into the quality of work delivered by them. You can go through those sites and inspect functional designs, speed performance, and ease of checkout. Analyzing all this will help with a good grasp of the developer's code quality.
Step 4: Look for Excellent Soft Skills
Looking for good soft skills in the chosen Magento developer is essential. You do not want to hire someone who fails to understand your business requirements. Good soft skills promote the easy flow of ideas and let you create what you want hassle-free.
This is also beneficial if you are looking for long-term site maintenance. Moreover, a Magento developer with excellent soft skills assists in smooth collaboration.
Step 5: Interview Developers with the Right Queries
You mustn't hire someone based on a work portfolio alone. You need to conduct a personalized interview to clear your doubts and queries. For example, you may need clarification about how the site will perform on different browsers and platforms. Or whether the site will look good on mobile devices. 
Clear all your doubts before you hire a developer. Some of the standard things to ask are as follows:
What similar websites or web apps have you worked on?

Why should I hire you over other Magento developers?

Which specific areas do you specialize in, like module development, plugins, etc?

Will you deliver the work within my timeframe and budget?

Do you have any expertise in Magento 2?

Will my website be SEO-friendly?

Do you have any questions for me?
At last, it's advisable to go with the instincts. A Magento developer with multiple years of experience and has delivered good-quality projects can drive your project to success. 
Final Words
Magento is a complex platform that can be difficult to work with if you're unfamiliar with the coding language. That's why it's essential to make sure you hire Magento developer who has experience in the programming language and knows how to navigate the platform. If you're still feeling lost or confused about what kind of developer you need for your project, don't hesitate to contact our team. We would love to help.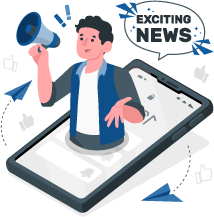 Find Your Perfect Magento Development Partner Today
250

+

Skilled Professionals
Frequently Asked Questions
Q1. Why would I need a Magento developer?
Magento developers can help you create, customize, and handle your eCommerce site. They have hands-on experience on how to develop user-friendly online stores that drive user experience and boost business sales.
Q2 .Where can I find Magento developers?
There are various freelance sites and agencies that let you hire developers. At Nethues, you can hire skilled Magento developers with proven certifications and work experience.
Q3. How can I evaluate the expertise of a Magento developer?
You can look at the following factors to analyze the expertise of the Magento developer:
Years of experience

Quality of projects delivered

Feedback or ratings from previous clients

Ability to work with themes, modules, and extensions

Standard-coding practices

Soft skills
Q4. How much does it cost to hire a Magento developer?
The exact cost to hire a Magento developer at Nethues lies between $20 to $50. The charges vary based on the chosen developer's seniority level and the project complexity.
Q5. How long does it take to find and hire a Magento developer?
You can hire a skilled Magento developer at Nethues within 48 hours. Our representatives will connect with you as soon as we receive your consultation request. Based on your project requirements, we shortlist and assign a suitable developer to you for an interview and further process.