Online businesses have been accelerating to keep up with the cutting-edge, AI-infused eCommerce market. Recently, the most significant industry disruptor has taken over the virtual sphere. The amalgamation of ChatGPT with Magento Open Commerce, an immensely popular eCommerce platform, ensures a seamless implementation of chatbot features into a business's website or web store.
Recent studies from Statista suggest that the chatbot market will experience immense growth, going from $40.9 million in 2018 to $454.8 million in revenue by 2027. Furthermore, businesses can save valuable time and resources by using chatbots to handle routine customer questions, leaving personnel to focus on more complex tasks.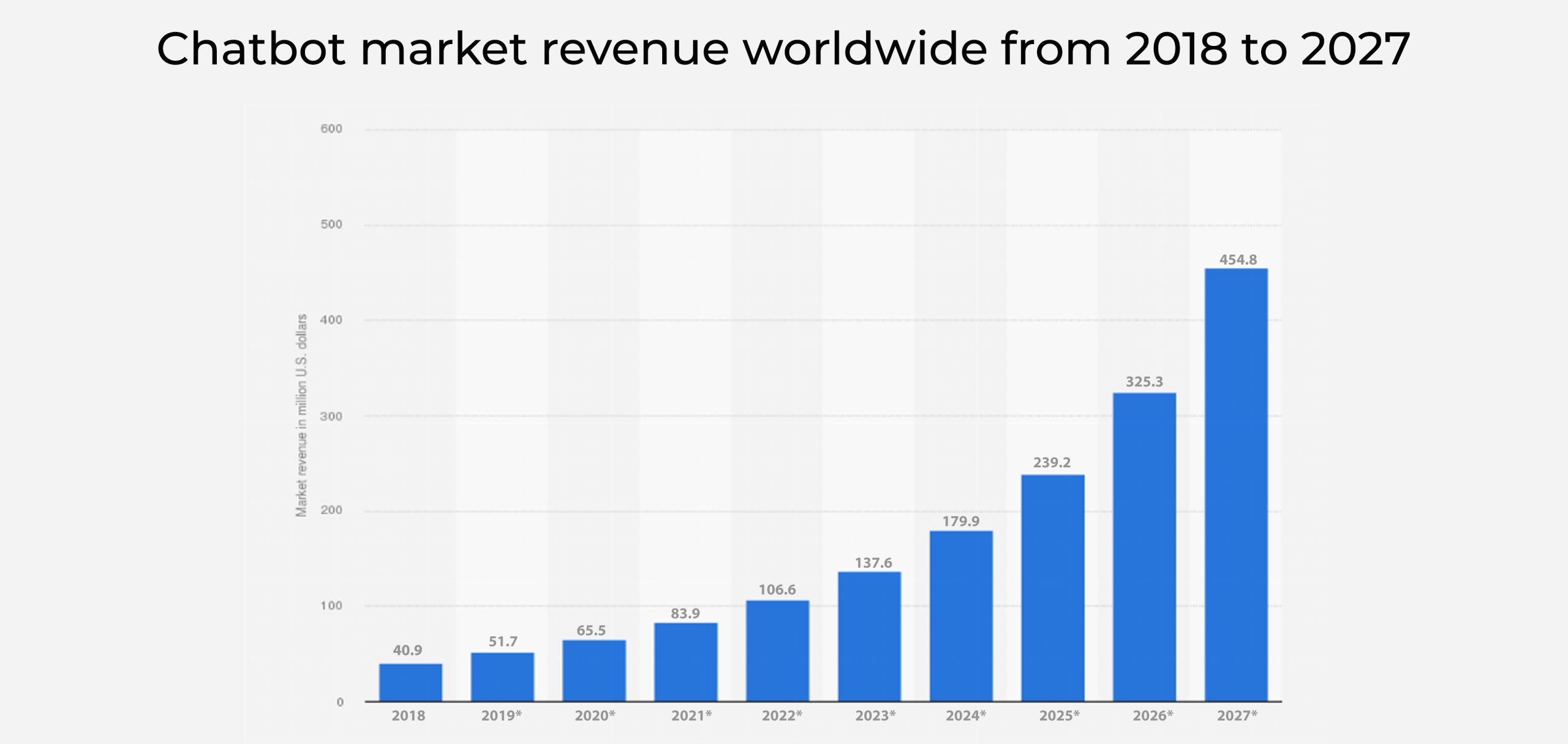 This article will discuss the multiple advantages of OpenAI's ChatGPT integrated with Magento (now Adobe Commerce) and how Magento 2 ChatGPT Integration can boost your online business. 
Go on, Read.
Introduction to ChatGPT
OpenAI recently launched their AI-powered ChatGPT conversation platform, featuring the GPT-3.5 language model and a record-breaking 175 billion parameters, on November 30, 2022. In less than a week of its debut, the platform earned over a million signups and the praises of many. It continues to be utilized in a variety of fields, such as content writing, problem-solving, coding, and beyond.
Basic ChatGPT Features When Integrated with Online Stores
Integrating ChatGPT with an online store unlocks a wealth of features, including:
The ability to quickly compose short descriptions for products

Compose professional emails

Generate meta tags
ChatGPT Advantages for Magento Open Source eCommerce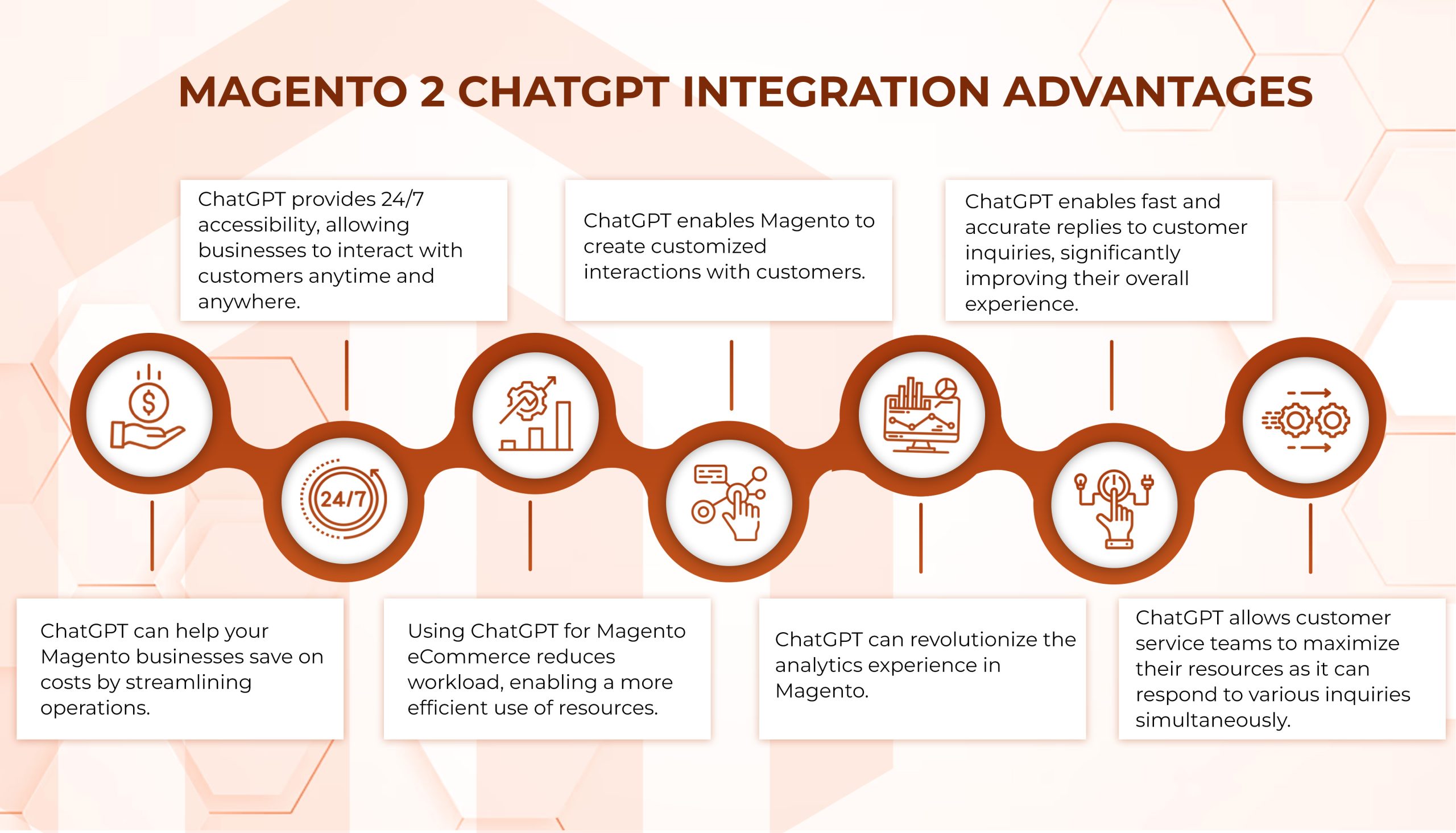 Reduced Costs
Enterprises can substantially lower the expenses associated with training and onboarding customer support staff. Chat GPT, this cost-efficient solution provides a cost-effective solution for businesses looking for a profitable solution to handle enormous numbers of consumer queries.
Round-the-Clock Availability
ChatGPT provides the advantage of always being available to customers, ensuring better customer service and a thriving global presence regardless of time zone.
Reduced Workload
ChatGPT can take the load off customer support teams by attending to common queries. This enables them to focus on more complicated tasks and provide better customer service, increasing their satisfaction. Thereupon, improving team morale and reducing staff turnover as the members aren't overburdened.
Personalized Interactions
This Artificial Intelligence powered chatbot can effectively decipher customer inquiries and supply tailored responses, creating more genuine, human-like answers for those using it.
Improved Data Analytics
This AI-driven Chatbot provides more than just the ability to respond to customer queries. Infact, it also provides insight into customer interactions which helps to optimize the customer experience, identify emerging trends, and streamline business processes.
Improved Customer Experience
ChatGPT provides prompt and accurate responses to customer queries, enhancing the customer experience, reducing wait times, and improving customer satisfaction.
Increased Efficiency
As this technology can answer various questions simultaneously, Customer support teams can save resources and time by leveraging ChatGPT.
---
You May Find This Interesting : Everything You Need To Know About New Magento 2.4.6
---
Perks of ChatGPT Magento Integration
NLP Powered Chatbots
By leveraging Natural Language Processing (NLP), ChatGPT has become one of the premier AI bots. It enables customers to engage in a personalized, instantaneous, and effective shopping journey by understanding their inquiries and replying in a human-like way.
Personalized Product Recommendations
This tool takes into account customers' purchasing history, along with their browsing habits, to generate tailored product recommendations and  drives up sales.
Easy Order Tracking
Integrating ChatGPT with Magento lets customers keep tabs on their order status and delivery details in real-time, thereby increasing transparency and reducing customer inquiries related to tracking orders.
Analytics and Reporting
By integrating with Magento, OpenAI ChatGPT provides invaluable information regarding customer buying behavior. Ultimately allowing for further optimization of an eCommerce store and improving its overall performance.
24*7 Availability
Integrating ChatGPT with Magento open source provides customers with round-the-clock service, allowing them to access Magento support outside regular business hours. This heightened level of customer satisfaction leads to increased sales.
Increased Website Traffic
ChatGPT's abilities enable it to attract and engage visitors to an eCommerce store, significantly increasing its website traffic.
Integration With Multiple Channels
ChatGPT can be easily integrated with different channels, such as mobile apps, websites, and social media, to give the customers a smooth and uninterrupted experience, no matter the platform. This integration with Magento open source is a great way to offer an effective eCommerce solution that will help elevate customer satisfaction and boost sales.
Enhanced Customer Service
ChatGPT has gained notoriety for efficiently handling customer inquiries and providing precise and swift responses. This reduces customer waiting time and creates a more satisfactory experience.
10 Uses for ChatGPT in Magento 2
Translate Product Descriptions Into Other Languages

Keyword Research and Classification

Analyze Sales Data & Generate a Report

 Reply to Product Reviews/Queries/Inquiries

Generate Code Snippets and Get Technical Help

Generate Product Descriptions

Write Personalized Emails to Customers

Build a Social Media Marketing Strategy

Optimize Meta Titles & Descriptions

Auto-Generate Email Templates
How to Integrate Magento 2 ChatGPT?
ChatGPT for Magento 2 is a powerful way to automate tedious tasks. Yet, manual efforts are still necessary for the setup of prompt writing. The extension allows you to auto-generate content in Magento 2 for a variety of fields.
Fortunately, Magento 2 ChatGPT Integration is a viable option to minimize effort and provide ideal outcomes. The module automatically populates content for Magento 2 elements with predefined prompts and enables custom prompts as well. To maximize effectiveness, a magento developer for hire can prove invaluable.
Must Read : How To Find A Magento Developer
How Can Nethues Assist with Magento 2 ChatGPT Integration?
With Nethues' expertise in Magento Development Services and OpenAI technologies, ChatGPT can be seamlessly integrated into Magento's open source. This provides a range of advantages, such as
Upon analyzing the demands of a Magento eCommerce, it is necessary to comprehend how to unify OpenAI ChatGPT to accomplish the desired functionalities.

Performing extensive tests and verifying that the integration functions according to the specified standards is necessary to ensure a successful result.

Integrate OpenAI ChatGPT with Magento open source by customizing the platform to interact with OpenAI's API and to ensure the appropriate functionality.

Performing integration deployment to the Magento store and providing support & maintenance to make sure it operates as intended.
Wrapping Up
To conclude, we can summarize that the combination of Magento open source and ChatGPT is incredibly beneficial for customer engagement and overall business development. Additionally, customers can use natural language processing (NLP) to navigate the platform easily, search for items, receive product recommendations, and get their inquiries answered.
Moreover, everyday tasks are automated to reduce the customers' workload and improve efficiency while reducing costs. Thus, if you are not well-versed in technology, you should consider to Hire Magento developer from India to take advantage of OpenAI technologies and maximize the potential of Magento integration.
Reach out to the specialists at Nethues right now for smooth Magento 2 ChatGPT integration through the plugin and automate business processes.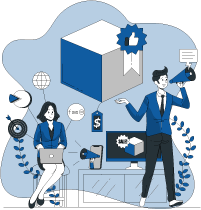 Unlock the Power of Magento: Transform Your Online Store Today!
250

+

Skilled Professionals
Frequently Asked Questions
Q1. How do I begin with Magento 2 ChatGPT integration?
In order to initiate Magento 2 ChatGPT integration:
1. Start by authenticating both Magento 2 and ChatGPT.
2. Pick one of the apps as a trigger to kick off your automation.
3. Determine a resulting action for the other app.
4. Select the data you want to send from one app to the other.
You're all set! 
Q2. Is there any cost connected with integrating Magento 2 ChatGPT?
Those with technical knowledge can set up the ChatGPT integration without any extra cost, but those lacking tech-savvy skills should invest in the services of a professional Magento developer.
Q3. How can I install a custom module to Magento 2?
To install a custom module in Magento 2, complete the following steps:
Create a module folder.

Make a file named etc/module.xml.

Create a registration.php file.

Run the bin/magento setup:upgrade script to install the new module.

Check to see if the module is operational.
Q4. How do I integrate Magento 2?
To integrate with Magento 2, follow the instructions below:
Navigate to the System Integrations menu.

Add a New Integration 

Start by creating a new integration form.

Put the title of the integration here.

Allow access to API resources.
Q5. How do I configure payment details in Magento2?
You can configure payment information in Magento 2 through these simple steps:
Step 1: Go to the Purchase Orders tab.
Step 2: Fill out the Purchase Order Section fields.
Step 3: Save the configuration.