Are you tired of your existing eCommerce platform's performance and looking to migrate to Magento 2? Or are you still using Magento 1 and now want to experience better speed, advanced security, and unique features after migrating to Magento 2? If yes, this blog post is just for you.
Magento migration can be a complicated technical process. When not performed by experienced Magento engineers using the Magento data migration tool package in Adobe's recommended manner, it may disrupt your eCommerce store's user experience, security, and data.
Companies who move to Magento 2 often make mistakes during the migration process which can cost them sales, SEO equity and customer loyalty. Research confirms that more than 34% of merchants are hesitant to migrate to Magento 2 due to:
Fear of losing their existing theme design and user experience.
Fear of module incompatibility with the new Magento 2 architecture.
Fear of data loss during data migration to Magento 2.
Lack of time or bandwidth for Magento 2 migration.
Unrealistic assumptions about the cost of Magento migration services.
At Nethues, a team of certified Magento 2 developers have compiled their knowledge to create this blog post for you. After assisting over 50 Magento stores from Magento 1 to Magento 2 migration and eCommerce stores on different CMS platforms migrated to Magento 2, we've seen what mistakes are commonly made in the industry and must be avoided.
Even the most skilled Magento developer could miss out on some of these precautions. So, to prevent your business from post-migration consequences, keep reading ahead.
What is Magento migration?
Magento migration is a process of moving your Magento webshop's data, settings, extensions, modules, theme, SEO equity, codebase, and other essential elements to the latest Magento version, using Adobe's official Magento data migration tool package.
---
Must Read: Magento Migration – The Complete Guide
---
Types of Magento migration
Magento's migration process varies in two categories: –
1. Magento 1 to Magento 2 migration
If you have an online store already operating on Magento 1 then you'll want to migrate to Magento 2. As, the platform is the same in this process, and the only variation is the version, it will include downloading the latest Magento 2 packages and performing the necessary steps using the most updated data migration tool version to carefully migrate the webshop's essential elements to the latest Magento 2 version.
Even though Adobe has officially rebranded Magento Commerce as Adobe Commerce, the approach is still recognised in the industry as the Magento 1 to Magento 2 migration process, not the Adobe Commerce migration.
2. Migrate to Magento 2 from other eCommerce CMS platforms
Businesses running on a different CMS, such as Shopify, WooCommerce, BigCommerce, PrestaShop, or OpenCart, may need to switch to another platform. Since everybody knows the quality, security, and features that Adobe incorporates into its ecosystem, many companies prefer to migrate data and their entire online store to Magneto 2 for better ROI and an enhanced user experience.
When moving from another platform to Magento 2, there are certain challenges that need be considered. For instance, the database structure and architecture differ between these two platforms as well as the features of each system which can lead to unwanted complications while following this particular migration process in general if not taken care off beforehand with appropriate planning or preparation measures put forward properly during transition times.
Top 10 common mistakes to avoid during migration to Magento 2
1) Proceeding without proper planning
Everything starts with planning. No matter how simple or complex a process is, not planning will always lead your webshop towards unnecessary complications. Migration is a step-by-step process that should be planned, discussed, and accompanied by a proven roadmap.
Many inexperienced developers search for Magento extensions and modules midway through the migration, which delays the process. Whereas there's a Magento data migration order that experts suggest to be followed. For instance, one should migrate settings first, then other elements of a webshop.
It is important to plan ahead and systematize the process in order for it to run smoothly but also avoid any productivity breakers that might arise during this transition period.
2) Not surveying the impact of migration internally
Moving to a new eCommerce platform can be a steep learning curve but the benefits will outweigh the challenges.
Migration to Magento 2 brings significant transformation. Everything from visuals to performance to functionalities will be changed after the migration. Hence, before migrating your eCommerce store to Magento 2, educate all stakeholders about the changes they will experience, check your store's internal workflow and business operations to make for an easy transition
3) Not verifying adaptability
Migrating to Magento 2 from its previous version or from a totally different eCommerce CMS needs adaptation. You heard it right, adaptation of themes, modules, extensions, and integrated tools, is important. If some essentials couldn't adapt due to their different source code or architecture, developers should customize them or create similar ones as per the new CMS's Skelton. Migrating incompatible elements without verifying their adaptability could affect the migration process.
4) Not testing enough
Testing is an integral part of a Magento migration process. Though it can be a little time-consuming, professional Magento development companies never hesitate to dedicate enough time and resources to testing. A proper blueprint should be tailored to highlight the webshop's vulnerable areas and test them on priority. Then a significant time should be spared to test the webshop's modules, extensions, and third-party add-ons. Introducing test automation to catch unrecognized bugs and errors is another smart move, that will not only save costs but also the team's manual testing energy. Saving resources or clients' costs by skipping the testing part is a big mistake one should avoid during the Magento migration process.
5) Neglecting SEO equity
A webshop may encounter a fall in search engine traffic, SERP rankings, and conversions after migrating to Magento 2 or another platform. However, SEO equity damage can be avoided with the help of a professional migration agency equipped with data migration and SEO knowledge.
One must pay attention to the necessary aspects, such as migrating at the least busy time of the store, implementing 301 redirects when changing URLs, transferring necessary extensions only, keeping the website performance-optimized, verifying Google search console and Bing webmaster suggestions, ensuring no links are broken, auditing webshop carts, enquiry forms, and other interactive elements during the migration to prevent SEO sinking.
6) Not disposing of outdated and useless data
Magento 2 Data migration is a tedious process. A company needs to filter out the required data with the help of the webshop's merchant and install Magento 2 on the same hosting server as your Magento 1 store.
Yet, in our years of Magento migration practice, we served multiple clients who preferred preserving their old and unneeded data, which consequently, in the long run, slowed down their webshop's performance. Though you can always have a backup of your old data, preserving it while migrating to Magento 2 is a mistake and should be strictly avoided.
7) Not following Adobe's officially recommended approach and tools
Magento is one of Adobe's most popular products for eCommerce development. It has provided customers with a dedicated Magento 2 data migration tool to ensure smooth data transfer between Magento 1 and Magento 2 database structures (tables and fields), track data, conduct data verification tests, and ensure a safe migration experience.
Neglecting Adobe's recommended migration approach and tool packages may help companies save some time and costs but at the risk of severe damage, discrepancy, duplication, or corruption of data. However, it is also essential to ensure that the version of Magento 2 store and data migration tool match with the correct migration settings within Magento composer HTTPS. For example, if you use Magento version 2.2.0, you must install the data migration tool version 2.2.0. And for the right migration settings, you may refer to Magento 2 data migration guide.
8) Avoiding consultation with professional Magento data migration agencies
Performing data migration is not an easy task. Your data, brand image, SEO equity, customer experience, user journey, and company's goals all are at stake in disruption. Consulting an experienced Magento data migration agency could help you prevent these risks.
Magento data migration agencies have experience migrating stores from Magento 1 to Magento 2 or from top industry platforms like Shopify and PrestaShop. Their expertise in administering such technical Magento migration, Magento maintenance, and Magento upgrade services ensures a friendly customer experience for you and your team.
You might not know much about your webshop custom code, theme redesigning, module recalibration, and SEO preservation, but experienced agencies will be able to pick this up quickly. Working with a reputable Adobe partner, Magento agency can help you grow your eCommerce and ensure a seamless platform data migration.
9) Not outsourcing certified Magento migration specialists
Magento certifications are badges of assurance awarded by Adobe for the quality and standard of Magento skills of a developer.
Certified Magento professionals possess substantial knowledge and hands-on expertise in customising Magento stores and providing complex technical services such as Magento migration, Magento codebase repair, Magento PWA development, etc.
Besides, a certified Magento specialist would never follow an unethical approach, which an un-certified engineer could follow to get the job done. This keeps your business safe in the long run, and your brand image preserved.
10) Not monitoring the webshop post-migration
Migrations to Magento 2 sometimes result in performance drops, functionality errors, bugs, and visual glitches. These faults ruin a user experience and, ultimately, the brand image.
That's why a Magento store must be monitored for at least 30 days after migration to ensure it is functioning correctly. Avoiding a post-migration audit is another big mistake SMEs usually make, which they shouldn't. Nethues always offer their clients post-migration support to keep their webshop and clientele expectations unstained.
 Conclusion
Magento migration can be a daunting task, but it can be a smooth process with the right preparation and team on your side. Our Magento team at Nethues Technologies has extensive experience in migrating eCommerce stores to Magento 2 or from the dated versions of Magento.
We've seen every possible mistake and know how to avoid them. Contact us today for a free consultation on your Magento migration and get the best services from our team of experts.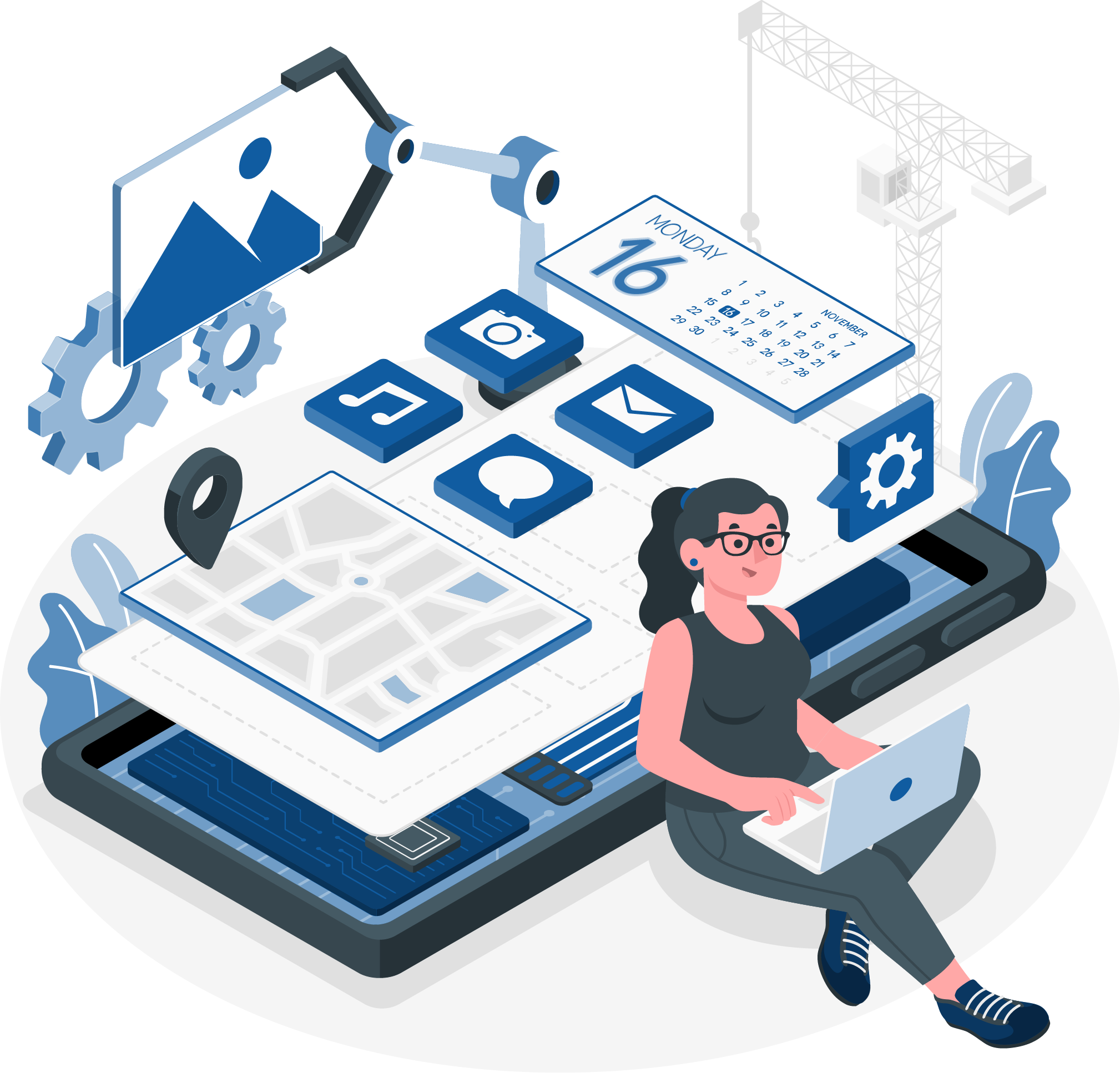 Save time and effort on Magento migration.
250

+

Skilled Professionals