Magento, in itself, has been making eCommerce development a lovable and enjoyable task.
Generally eCommerce owners, in order to grow and gain maximum, get stuck up between the choice of platforms. Whether to take the path towards Magento Community Edition or Enterprise Edition, is what troubles them the most.
Let's make it an easy choice by discussing both the versions.
What Is Magento Community Edition?
A free, open source CMS that can be downloaded by anyone and used to build a web store, Magento Community Edition is ideal for small businesses that want to try their hands on building an eCommerce website. Since it is an open source, it is easily customizable and makes use of the Magento extension marketplace to enhance the website's functionality.
Available at no charge, the only cost you have to pay comes from the domain name, web hosting and a qualified Magento programmer. In addition, the version provides community forum sites where anyone can share their knowledge, experiences and tips.
What Is Magento Enterprise Edition?
Derived from the Magento Community Edition with the same core functional files, Magento Enterprise Edition is an exclusive paid version of Magento with amount of premium advance settings and premium features. Meant for medium to large enterprises, it gives users a particular set of functions with scalability, control & flexibility.
Furthermore, unlike Magento Community, it is fully supported by the Magento team and subscribers receive full customer service and support via phone or email.
The Key Differences
Magento Community Edition is used by business owners looking for a low-cost eCommerce shopping front to further develop operations and enhance user shopping experience. Whereas larger online retailers use Magento Enterprise edition because of its advanced and highly customizable features.
When choosing between both versions, it's important to consider your needs, requirements and goals. In order to make this choice a cakewalk, let's consider some of the prime differences including cost, performance, scalability, functionality and security.
Cost
While Magento CE is free, Magento EE starts off at $22,000/year, it is backed with advanced features, security updates, exclusive product enhancements and more. Check out the table below to compare CE vs EE project estimation in numbers: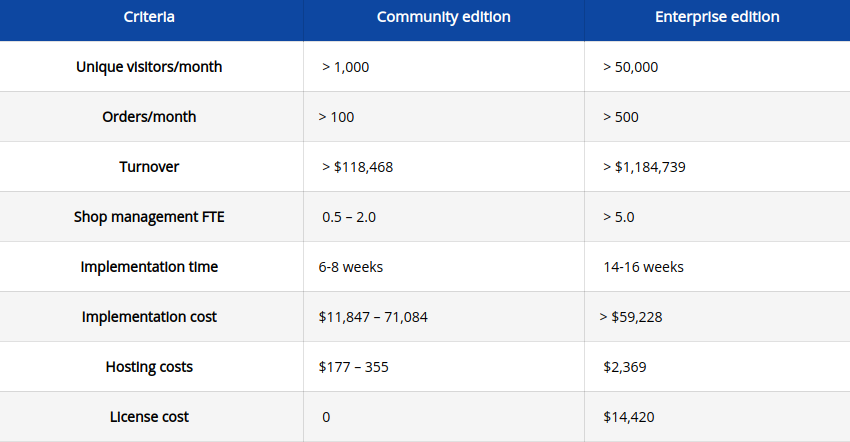 So make a wise choice while taking into consideration your business goals, objectives and budget.
Performance
Most online retail business owners prefer the Magento community edition as it offers limitless customizable options available through its open source platform. But platform customization can be difficult for non-tech users. It's essential to be able to customize your Magento store and Magento multi-store platforms through redevelopment, redesign, and design services to enhance and ensure smooth operation and target business goals. There is a necessity for hiring experienced Magento certified developers to properly build and support your professional online store.
Increased limitations with Magento Community Edition makes Magento Enterprise Edition more appealing. For larger businesses with more needs, the paid Magento enterprise edition can be the most cost-effective option with a higher return on investment due to its support for running multiple databases to support checkout, order management, and product data, allowing for functional areas to be independently scaled.
In addition, new Magento cloud service like the Enterprise Cloud Edition enables rapid deployment of fully customizable, secure, and scalable web storefronts on a redundant, AWS-based hosting and managed services infrastructure, fully optimized for performance and resilience.
Scalability
If you are a brand that aspires to grow and expand with website traffic, then site functionality, major customizations, security, and product enhancements form an essential part to bottom line eCommerce goals.
Magento Enterprise edition is designed for scalability if you're expecting huge website traffic, as its underhand code base is better formatted to implement high-end Magento development. It features accelerated rendering of admin/customer product and order management views for faster access to information.
If you are inclined towards Magento community edition, then it is important to consider the following:
Upgrading from one version to another complex
Codebase differentiations between each platform require proper integration and planning.
So it's important to ensure that your business is backed by an experienced team of software developers who are able to seamlessly migrate your eCommerce site from community edition to enterprise edition, ensuring data integrity, extension compatibility and consistent storefront designs.
Functionality
On top of the core features, Magento Enterprise comes with several advanced features like segmentation with targeted offers, minimum advertised price, return management authorization, price and promotion permission, an enhanced catalog and CMS, call center software with assisted shopping etc. This, in turn, enables merchants in performing tasks without involving Magento developers and launch new sales campaigns, promotions and simply products straight from the Admin panel.
Security
Security is the fundamental highlight of Magento Enterprise Edition because Magento CE is not PCI compliant. In addition to this, Magento Community does not provide credit card tokenization or highly secured payment bridges.
While shopping online, customers appreciate a store that offers them multiple secure payment gateways.
Magento Enterprise takes care of this. It offers a secure way to integrate payments methods like PayPal, Braintree, Authorize.net, CyberSource, WorldPay, and more. It also offers regular scanning, external penetration testing, and bug bounty programs that promote core platform security.