The digital age has seen the emergence of an on-demand market, a phenomenon that has taken the world by storm. Amazon, with over 1.9 million-selling partners globally and a staggering 300+ million active customer accounts, has established its dominance as the online marketplace king.
While eCommerce systems with niche-focused approaches are impressive, creating software that links buyers and sellers afford greater flexibility, simplicity, and versatility. Online marketplaces or marketplace apps, with their myriad benefits, are highly sought after by online shoppers. It is, therefore, wise to invest in a marketplace app. 
If you are considering developing a marketplace app but are unsure of the cost, this article will provide useful insights. It will detail the factors influencing the cost of creating a marketplace app like Amazon.
Also, Read more here – Why Your eCommerce Business Needs a Mobile App
What's an eCommerce Marketplace App?
The eCommerce Marketplace mobile application enables multiple sellers to sell and register their products through an online platform easily. Revolutionary mobile marketplace apps like Amazon have revolutionized the shopping experience, attracting millions of customers from across the globe each month. Aspiring entrepreneurs are encouraged to invest in the thriving eCommerce industry.
What are the Different Kinds of Marketplaces?
Before delving into Marketplace app development costs, it is imperative to understand the various kinds and instances of existing marketplaces to gain insight into how to build one. They are:
1. Vertical
Vertical marketplace websites operate as exclusive communities, offering customers access to detailed products from top-rated sellers. These marketplaces specialize in particular sectors or niches, catering to highly specialized markets and contributing to specific product categories. 
2. Horizontal
This type of marketplace offers a diverse range of goods and services with similar features to a specific marketplace. Companies that provide horizontal marketplace software offer items from several categories with common features. These applications enable access to various articles and services within comparable categories. Etsy is a notable example of a horizontal marketplace, which permits vendors to sell handmade products across multiple areas.
3. International
The global marketplace stands out as a premier platform that caters to diverse clients across various geographical locations. With an extensive reach that transcends borders, it facilitates the seamless exchange of goods, services, and people worldwide. As exemplified by Amazon, the marketplace enables buyers and sellers separated by vast distances to transact. 
Nonetheless, have you ever contemplated the cost of developing an app like Amazon?
Also, Read more here –Foster Growth With The Top-Grade Mobile App Development Tools
Factors Affecting the Overall Development Cost of a Marketplace App
The development cost of an app is determined by a variety of factors, such as: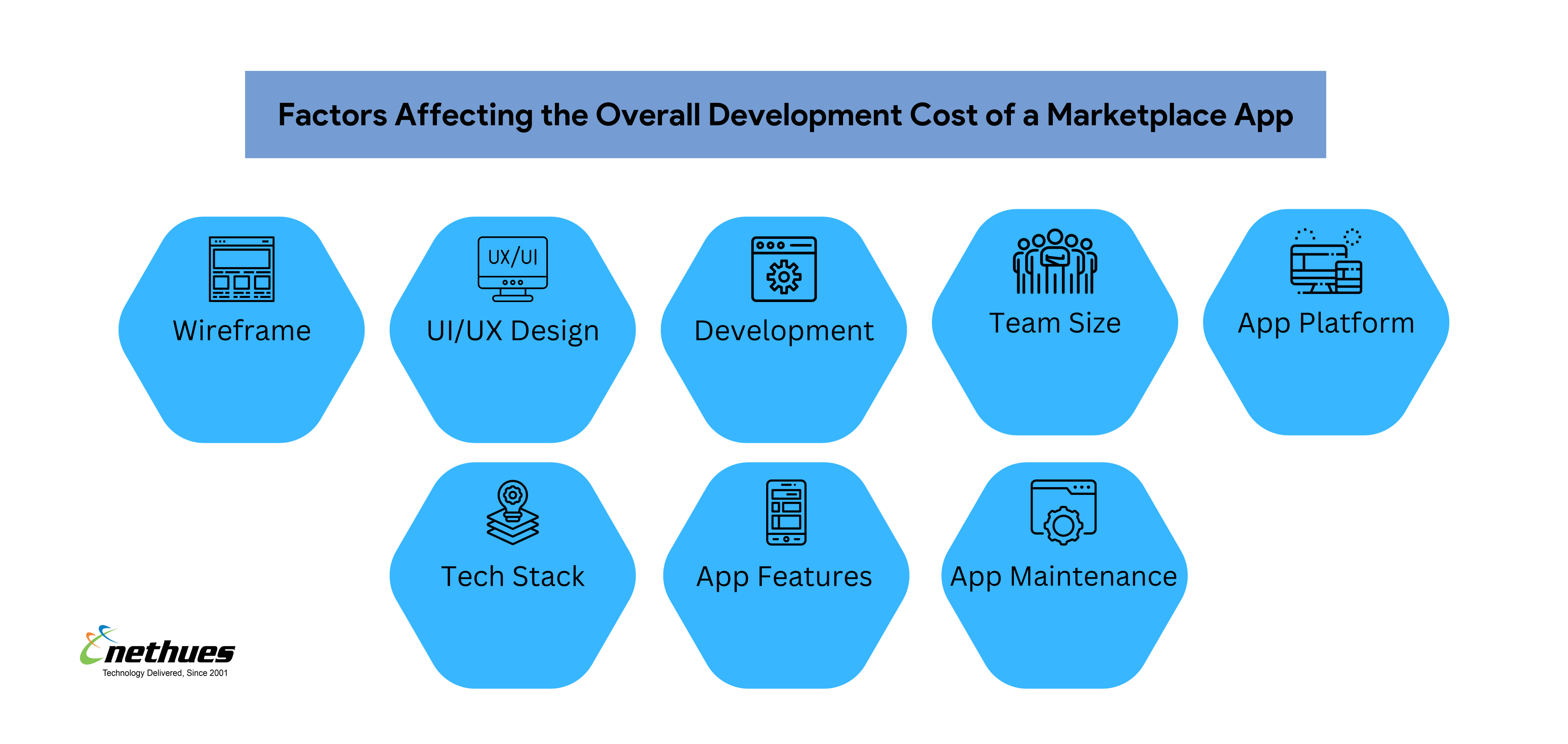 1. Wireframe
Wireframing is a critical component of app development, as it involves creating a blueprint of the app's layout and design. A well-crafted wireframe sets the tone for the rest of the development process and can either save or cost you significant amounts of money.
2. UI/UX Design
Designers put a lot of time and effort into ensuring the app looks great and feels smooth. The amount of customization needed and the number of features an app has also impacted the design cost. The more complex an app is, the more time it takes to design. At the same time, it may seem like an additional expense, but investing in an app's high-quality UI/UX design is crucial for its success. 
3. Development
Your ideas and designs are transformed into a functional mobile app during the development phase. The Marketplace app development cost is influenced by various factors, such as the number of resources allocated to the project, the extent of features to be integrated, the hourly rates of marketplace app developers, and the overall timeframe for development.
4. Team Size
The size of a team significantly influences the cost of developing a marketplace app. Choosing a freelancer to carry out your project can lower the overall expense, as compared to hiring a complete development team. However, despite the higher costs associated with the Mobile app development company, their professionalism and expertise are invaluable for achieving a guaranteed ROI.
A typical Amazon-like app development team comprises a Project Manager, Backend Developers, iOS/Android Developers, Designers, and Quality Analysts.
5. App Platform
The overall cost of developing an app can be influenced by the platform on which it is built. While the choice between Android and iOS may not significantly impact the budget, it is advisable to start with one platform and expand to cross-platform development later. Creating a Minimum Viable Product (MVP) can be a wise choice initially to minimize expenses. After gaining market traction, upgrading to a fully-fledged application is recommended to ensure continued success.
6. Tech Stack
The use of advanced and sturdy technology for the app heightens its probability of succeeding in the market and subsequently impacts the overall Marketplace app development cost. A powerful tech stack enhances the app's scalability, speed, user retention, navigation, and engagement.
7. App Features 
The app's feature list holds great significance in determining the cost of the mobile app development project. A basic marketplace app, which includes fewer features, will undoubtedly come at a lower cost when compared to a complex app that has an extensive feature list. The more features integrated into the app, the higher the app budget will be.
8. App Maintenance
Unexpected app maintenance costs can easily creep up, adding to your overall app development budget at any given moment. Whether it's adapting to new technologies, adding new features to keep up with market demand, or implementing app upgrades, monitoring your app cost is crucial for ensuring its success.
Final Thoughts!
If you are looking to build a marketplace app and create a community of consumers and service providers, we recommend hiring a dedicated eCommerce app development organization. Although an exact estimate of the mobile app development cost is not possible, we hope that now you have a clear understanding of the factors affecting the App development costs.
In case you need any assistance developing mobile apps, hire app developers from Nethues. Once you have finalized your app development budget, our professional experts will not only guide you through the initial process but will also help you get started finishing your marketplace app development project. Our proficient experts are readily available to support you at every step.