So you have finally decided to upgrade PrestaShop 1.6 to 1.7.
Are you trying to look into the steps of its process? Searching for ways to migrate your PrestaShop?
You are at the right place.
As a PrestaShop partner agency, it is our responsibility to explain PrestaShop 1.7 migration/upgrade process in detail.
Keep reading because you will be learning everything for people to consider yourself a PrestaShop migration expert.
But before we move ahead, do you know ever since PrestaShop released its version 1.7 in 2016, many online merchants have chosen to upgrade from the older PrestaShop 1.6 to 1.7?
Certainly, the upgraded version brings so many improvements. These enhancements by PrestaShop are enough to take your customer experience to a whole new level and expand your vendor abilities.
Therefore, before you hire PrestaShop developer who can migrate your PrestaShop, this comprehensive guide is your preliminary read.
We know that PrestaShop migration 1.6 to 1.7 is a technical process that demands a certified PrestaShop professional on the job. Still, it would be better if you as a merchant knows everything.
When you understand the entire migration process, its advantages, steps, and precautions, you are much more likely to be on the safer side.
No unprofessional agency or developer could advantage you. You can monitor everything on your own without relying on the developer's integrity to work professionally.
So, without any further ado, here we go.
Table of contents
What is PrestaShop 1.6 to 1.7 migration?
PrestaShop 1.6 to 1.7 migration is the technical process of upgrading a PrestaShop store from version 1.6 to 1.7.
This process includes shifting an existing PrestaShop's theme, modules, data, elements, and complete SEO equity to the latest version.
It also includes preventing the loss of current essentials, while making all elements function compatibly with the newly released PrestaShop version.
Note: PrestaShop's latest version 1.7.8.6 is out. Read about it here.
6 Reasons: why migrate PrestaShop 1.6 to 1.7?
Unlike small version releases, PrestaShop 1.7 is a major upgrade. It doesn't just update your platform's version but also enriches it with new features, enhanced security, and better sustainability.
Let's check out some top reasons why PrestaShop migration to version 1.7 is inevitable:-
1) PrestaShop 1.6 is no longer supported
The new version of PrestaShop has more advanced features than the old versions. It is only a matter of time until the old versions become obsolete. Besides, PrestaShop 1.6 will not be supported by its creators in the future, so you will need to switch to the new version eventually. The question is why put it off any longer when you can move now?
Recommended Read: Why is it high time to upgrade your PrestaShop?
2) Increasing costs of development
If you upgrade to a higher version of PrestaShop, you may avoid these problems. However, if you continue to use PrestaShop 1.6 or lower, you will need to modify your store regularly to stay competitive with other store owners.
Upgrade and development will become a must for you, and you'll be more focused on correcting things than selling. You may save yourself a lot of hassle and costs by migrating to PrestaShop 1.7 right away and getting all of the features at once.
3) Simpler product management
PrestaShop 1.7 creates products quickly, which is a real-time-saver. This new version makes product management easier with fast actions, a modernized interface, user-friendly shortcuts, and more.
4) Improved search engine performance
Reaching out to a large number of people is more important than just selling products. If you upgrade from PrestaShop 1.6 to PrestaShop 1.7, you can improve the visibility of your new PrestaShop store on search engines.
If you upgrade to PrestaShop 1.7, your store, product, and CMS pages will be more optimized. This will improve your conversion rate (the number of people who buy something from you) and result in more visitors and sales.
Recommended Read: 11 practical tips to boost PrestaShop sales and conversion
5) Enhanced webshop performance and faster checkout
PrestaShop 1.7 provides an improved user experience with a better Back Office Navigation. This makes it easy and fast to move through the different pages on your website. You can also make your website more user-friendly with one-page checkout, better results, improved site performance, and a differentiated multi-channel eCommerce experience.
6) Increased security and platform stability
PrestaShop 1.6 is no longer a secure eCommerce platform, and it also does not meet the technical standards of today's marketplace.
The new 1.7 version has passed through hundreds of security checks. It has a solid structure that can resist all sorts of security issues (both internal and external).
Improvements you will notice after upgrading from PrestaShop 1.6 to 1.7
PrestaShop 1.7 introduced several improvements to your platform. Let's discuss them individually:-
Admin Panel Improvements
New and advanced admin interface menu to increase the task processing speed.
New tools in the admin folder to design responsive & professional themes.

Symfony architecture to code more stable, modular, and fully testable.

Improved back office interface and grid actions.
Product-Related Improvements
Quick product listing creation.
New listing available for customizable products.
Option to create digital products.
Tools to create information-rich pages for products
User Experience Improvements
Improved back office UI/UX for simplified webshop browsing.
One page checkout functionality.
Fast account registration via Google or Facebook.
Customer group creation feature.
SEO and Marketing Improvements
New SEO features to boost conversion rate.
Functionality to get live promotional banners on the website.
Social media integration. Connect your webshop with social pages.
How to migrate PrestaShop 1.6 to 1.7 – Step by step process
At Nethues, we have experienced PrestaShop developers who manually upgrade your PrestaShop by using PrestaShop's system upgrade.
This procedure is highly technical in nature. You must deal with backing up the database and repairing or recovering damaged data.
Therefore, before we discuss the steps here, it is important to look at the things we do before PrestaShop migration.
PrestaShop migration checklist | What to do before PrestaShop migration
Back up all the databases and files of the PrestaShop 1.6 version.
Delete the junk data.
Develop a PrestaShop clone on a staging server for demo migration. Using the live store directly for migration could be risky. (We offer free demo migration)
Carefully examine the compatibility of existing extensions, themes, modules, and custom code with the latest PrestaShop version 1.7
Recommended read: Why are modules important for the PrestaShop store?
Steps for PrestaShop migration 1.6 to 1.7
Step 1: Turn on the maintenance mode
The PrestaShop store upgrade may cause some unexpected problems. The maintenance mode will help avoid these problems. When this mode is enabled, your visitors will receive a message in their web browser instead of the normal store. They will not be able to place any orders until your upgrade is complete.
Instructions to turn on the maintenance mode:-
On PrestaShop 1.6, in Shop parameters > Maintenance.
On PrestaShop 1.7, in Shop parameters > General > Maintenance tab.
If you add your IP address, you will be able to monitor your store while it is down for maintenance. This will help you make sure that everything is in working order before you allow your consumers access once more.
Step 2: Copying of files
We will copy the existing PrestaShop 1.6 files and paste it into PrestaShop 1.7. As a result, your PrestaShop 1.7 store will have all the same files as your current store (including images, logos, translations, and customizations).
If you want to merge a new vendor/folder with the old one, conflicts may happen. But don't worry, we can solve this problem by deleting the old upload folder and copying the new one in its place. When getting a warning box that says files already exist in the config folder, we select Overwrite to continue.
Step 3: Upgradation of the database
After copying the files, your PrestaShop database is ready to be upgraded. You may want to keep the important documents in a digital format. Your database upgrade script can be used to move your current information into the cloud and back again, which allows you to access it from anywhere on any platform. We will need an account with full rights for this Database upgrade script to work.
To run the file install/upgrade/upgrade.php, we can do it on the browser by reaching the address: HTTP://<shop_domain>/install/upgrade/upgrade.php, or from your server's command line: PHP install/upgrade/upgrade.php
Step 4: Clean up
We start by cleaning up a few things to gain value from the data and decrease PrestaShop 1.7's time-loading speed when accessing it. Here are two main things we consider deleting:
The install folder, which is utilized to run database upgrades, is no longer necessary, and deleting it will have no effect.
When you open your store on your browser, you may see some visual problems. This is because the cache is still using old assets. To fix this, we reload the page or clear your browser's cache.
Step 5: Upgradation of modules
Your module files will be updated during the file copy. However, some of them may need more database modifications.
As a result, we double-check the module page in your Back Office to see whether new upgrades are available.
To log in, we go to your administration panel and click on the login page. You will see that the version number has changed. After that, in the menu, we click on Module & Services and then 'Update all' at the top of the page to run all available upgrades.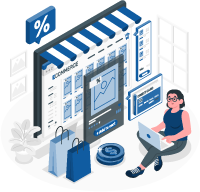 Upgrade and Unlock New Possibilities Today!
250

+

Skilled Professionals
Conclusion
There you have it. We hope you have found the information you were looking for.
If you are a PrestaShop 1.6 user, it is important to start planning your migration to PrestaShop 1.7 in 2022.
The bad news is that the process is complex, but the good news is that we are here to take all the hassle.
Connect with us if you need help migrating or upgrading your PrestaShop store.
We are a certified PrestaShop partner agency and have 10+ years of experience helping businesses just like yours make the switch.
Still, if you'd like to explore a few more options, refer to this guide: How to choose the right PrestaShop development agency.
Thanks for reading!